LeAnn Rimes Says Brandi Glanville Uses Their Feud 'For A Career,' Calls Her A Liar Who Doesn't Want To Change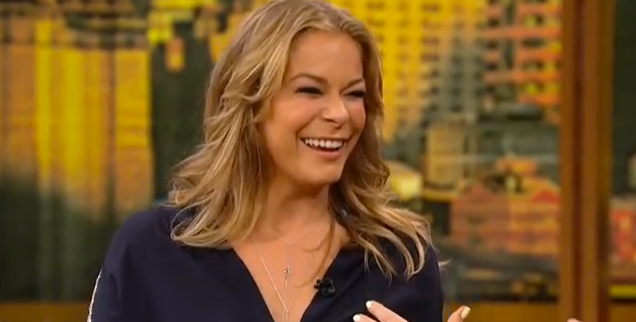 LeAnn Rimes appeared on The Wendy Williams Show on Wednesday to promote her new album Spitfire, but it wouldn't be an interview without some talk of nemesis Brandi Glanville — and LeAnn didn't hold back.
"Brandi talks mess, and you talk mess. One of you has to be big enough to stop," Wendy told LeAnn.
"I talk truth," LeAnn interrupted.
"Will you ever just leave it alone?" Wendy asked.
"I would love that. Even though I approach this topic on this record, I approach it at no one else's expense but mine. This is from my point of view, my feelings, and I'm not pointing out names, pointing fingers," LeAnn said.
Article continues below advertisement
"But I feel like sometimes it's used for, on the other side, maybe a little bit for a career. So therefore until that stops, until that storyline stops, I don't think it will stop."
"Do you realize that if you ignore your haters, eventually they will just go away?" Wendy asked.
"Right, no. That's not true," LeAnn stated. "Because girl, I have done that. Both people have to want to change, and you can't change someone else unless they actually want it."
Wendy also hit on the moment Brandi revealed in her bombshell memoir, Drinking & Tweeting and other Brandi Blunders, how she found out that LeAnn was having an affair with her husband at the time, Eddie Cibrian.
In the book, Brandi claimed LeAnn had accidentally smeared cake frosting on her shirt and without realizing Brandi was there, asked Eddie if he wanted to lick it off her.
"On my drunkest day, I would have never done that in my entire life," LeAnn told Wendy.
Article continues below advertisement
"Let's just put that out there, that's a complete lie. That never happened, that never happened, in a million years."
Either way, Brandi found out about the affair, but LeAnn told Wendy it wasn't until she found out the story of their infidelity was going to hit a national weekly magazine that she decided to tell her husband at the time, Dean Sheremet.
"When I found out that was coming out, I called him immediately and told him," LeAnn said.
"I called my mom, I called everybody who was important to me and I said, this is what's happening and there just was no hiding it. I was honest."
But now that LeAnn and Eddie are married, she has become stepmom to his two children with Brandi — and LeAnn has hurtfully said in the past that they sometimes call her "mom.
"I have the right as any other stepmom to love my stepsons the way I love them, and they're fantastic," she told Wendy.
Article continues below advertisement
But LeAnn said she and Eddie talk about having their own children together some day.
"We talk about it all the time. We have his two kids, we have them half the time, so we do have our hands full with our jobs, but I think we'll carve out time for that," she revealed.
As for LeAnn's stint in rehab last year, the country singer says she was suffering from anxiety, stress and depression.
"I guess I've gained some weight, but that's nice. I know I was small, but I can 100 percent, honestly say I have never had a problem with eating, trust me," LeAnn said.
"It was just stress. I was really through…when I honestly say anxiety and stress and depression, that's what I was going through and it was just my body's way of just dealing with it."
What do you think of LeAnn's appearance on The Wendy Williams Show — did she appear truthful and heartfelt? Sound off below…
radar_embed service=youtube src="https://www.youtube.com/embed/q-F8UYOLhyk" width="560" height="315"