First Cracks In the Marriage? Khloe Kardashian Calls Lamar Odom A 'Moron' After He Drops The Ball At Kim's Baby Shower On KUWTK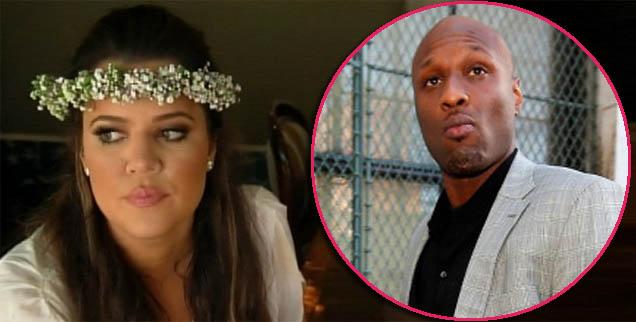 Khloe Kardashian's marriage has been on the rocks for months since news broke of her NBA star husband Lamar Odom's alleged cheating and drug use.
But you never would have known it by watching Keeping Up with the Kardashians -- until now!
On Sunday's episode, viewers saw what looked like the first cracks in the Khloe/Lamar marriage as the reality TV sister got angry at the basketball player when he dropped the ball on his promise to bring Kanye West to Kim Kardashian's baby shower.
Article continues below advertisement
Lamar and Kourtney Kardashian's baby daddy, Scott Disick, had told the girls they would pick up Kanye and drive him to the shower.
Instead, they showed up without him, disappointing Kim.
"I can't believe Scott and Lamar are such morons," Khloe raged at the baby shower, making a face.
"Scott and Lamar dropped the ball."
Watch the video on RadarOnline.com
And incredibly, in an earlier scene, viewers learned from Kourtney that Lamar hadn't been to Kourtney and Scott's house in three years! The revelation should be an eye-opener to fans who know how close the sisters are, and would have expected Khloe's hubby to be a constant presence in the Disick home.
During the show, Lamar dragged his feet on even attending Kim's special day.
Lamar first told Khloe and Kourtney, "Men don't go to baby showers."
But he and Scott finally agreed to show up with Kanye in tow.
They apparently couldn't hook up with Yeezus, however.
Luckily for Kim, Kanye, a shadowy figure on Keeping Up with the Kardashians this season who has been rarely heard and never seen, finally appeared on his own -- walking into the shower fashionably late with a big smile on his face.
Article continues below advertisement
Later, when the Kardashians lined up in a row to pose for a big family picture, Khloe was annoyed with Lamar again, as he wasn't too quick to rush to her side.
"I'm over here, Lamar!" Khloe yelled impatiently.
As the family members mingled, Kanye confided to Lamar about the coming baby, "It's all overwhelming."
As KUWTK viewers know, Kim and Kanye had their baby daughter North in June. But the show is still airing episodes in which Kim is pregnant.
And Sunday's episode revolved around how Kim at first hated the idea of a baby shower but was ultimately happy when her mom Kris Jenner and her sisters talked her into it.
At a photo shoot, Kim told her sisters she didn't want a baby shower because she felt her pregnancy had gotten a lot of negative attention.
"I'm not in the mood for it," Kim shrugged.
But momager Kris Jenner insisted to Kourtney that Kim MUST have a baby shower. She didn't want Kim to miss out on the amazing memories. And more importantly, the pictures and videos!
Article continues below advertisement
Kim got even more agitated, however, when she saw a gift registry had been leaked for her baby shower. She called her family to complain.
"Why are you trying to plan it?" she asked Kourtney and Kris.
"My family is being so controlling," she sighed to the E! cameras.
Later, Kris shared with Kim videos of the baby shower she had when pregnant with her son, Rob.
The late attorney Robert Kardashian was in the old video saying, "I'm thrilled to be here," which made Kim, Kourtney, and Khloe well up with tears for their dad.
Kim said, "I do love seeing these memories."
She realized she wanted to have the special day for her daughter. Kris burst into tears at the news.
Later, Kim told Kourtney she bought everything on her registry herself and she and Kanye wanted guests to make donations to a Chicago children's hospital instead.
At Kim's baby shower, Kris called the event "perfection," and bonded with Kanye's relatives, gushing to the ladies, "We're all having a baby!"
Article continues below advertisement
Meanwhile, Kim beamed at the lavish garden table settings at Irving Azoff's mansion and said, "It looks so gorgeous and magical."
In an emotional toast, Kris said to her daughter, "It just hit me that you're going to have a baby. You're an amazing woman and you have such a big heart. You're going to make the most amazing mother. We celebrate you, Kim."
The Kardashian mama also paid tribute to Kanye's family members, saying, "We reach out to you with love."
In another show plot, Kris and Kylie Jenner fired another salvo in their continuing battle against Bruce Jenner having a gun in their home.
The gun made both mother and daughter uncomfortable, so Kris decided she would pretend to want to know where it was so that she could fire it at potential home invaders.
But Bruce forced them to take a gun class before letting the women handle a firearm!
After Kris showed Bruce that she had passed a target practice class at an L.A. gun range, Bruce showed her where his gun was hidden in the laundry room.
Article continues below advertisement
When Kris brandished it, Bruce told her, "You look kind of hot with a gun."
"Maybe we can play cops and robbers," Kris smiled.
Later, Kris and Kylie buried the gun in cement and let it dry.
When Bruce found out his gun was now encased in a brick, he hit the roof.
"I can't believe you guys did this!" he said.
The family patriarch said he would take possession of the gun he had bought especially for Kris.
"There WILL be a gun in this house," Bruce declared.
Kris sighed, "I"m going to let Bruce have his way."
Also on Sunday's episode, Khloe was trying to find ways to hide an embarrassing case of camel toe.
Khloe's motto was CTC: "Cover the camel!"
"I have a big v*****. I can't control it," Khloe said.
In the show's most ridiculous moment, Kourtney gave her an uncomfortable insert pad to help hide her camel toe.
Khloe called her mother to ask if she'd inherited her big crotch.
Kris said she herself looked pretty damn good and ordered Khloe to "get over it!"
After the pad caused her pain at a fitness class, Khloe tossed it away in the ladies' room and told viewers humorously about her embarrassing anatomy problem, "If you see it, it's my gift from me to you."
What's not so funny, however, is Khloe's continuing marital nightmare, hints of which are at long last making it on the family's reality show.