Watch: Brandi Glanville Puts Kyle Richards On The Spot About Mauricio Umansky Cheating Rumors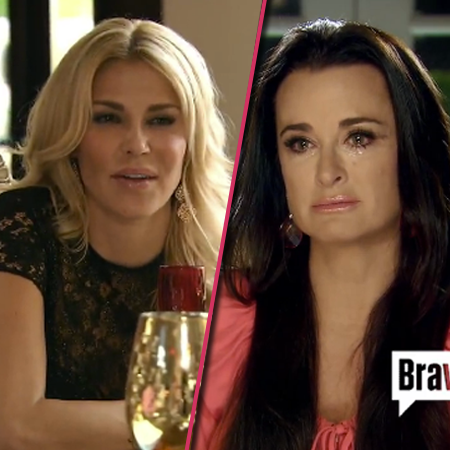 Brandi Glanville caused a firestorm on Monday night's episode of The Real Housewives of Beverly Hills when she bluntly bought up Mauricio Umansky's alleged cheating to Kyle Richards.
"Kyle, there was that story about Mauricio cheating," Brandi stated over drinks with all the housewives. "What's up with that?"
Kyle and her sister Kim Richards shot glares at Brandi for bringing up the rumors.
"Why would you bring that up? You know that it's hurtful. You know how hurtful and painful it has been for my family. Why would you do that at a table like this in front of everybody? F*** you," Kyle vented during her confessional.
Article continues below advertisement
"It still sucks to have it out there," Brandi said about the infidelity rumors.
"You just have to ignore it," Lisa Vanderpump stated. "Let it go."
"Being in that position is terrible, but it comes with the territory," Kyle said, before being cut off.
"On the other hand though, a lot of stories come out," Yolanda Foster said with Lisa adding her two cents, "There is no smoke without fire."
Kyle fought off the rumors: "My husband and I are in love with each other. No tabloid or any group of mean girls can take that away from us."
Later in her confessional, a teary eyed Kyle revealed, "I've never brought up lies and tabloids about them."
Brandi tried to explain she only brought up the rumors because she didn't believe the tabloid reports about Eddie Cibrian before ultimately finding out he had cheated.
Kyle shot back, standing by her husband: "You wish it were true even though it isn't true. F** all of you!"
Watch the video on RadarOnline.com
Article continues below advertisement
Also during the episode, Brandi shockingly stripped down to talk about her romance with realtor Jonathan Ruiz.
"I'm going to go out with J.R. and have the talk," she told her friend Jennifer, as she dipped naked into her bathtub.
"He started out as man friend… but then I needed a house, so I used him in more way than one," she jested in her confessional.
"We bicker like an old married couple and then have hot makeup sex," Brandi told Jennifer, who responded, "He's nice, but not for you."
Brandi said, "Now that I have a house, I don't need J.R. anymore … but he's really on my last nerve."
She later met up with Jonathan for dinner.
" J.R. is a pain in my a** but it's hard when you get attached to someone," she admitted.
But ultimately, she decided to break up with JR.
"I think that it's over," she said to him.
"I enjoy spending time with you and don't know how to turn it off," he said.
After calling him out on wanting to go on a couple's trip, as a single guy, Brandi decided to call it quits on their romance.
Article continues below advertisement
"I'd rather break up with them than them break up with me -- welcome to divorce, b**ch," Brandi candidly admitted in her confessional.
Meanwhile, after six weeks on Dancing With the Stars, Lisa is kicked off the show.
Suddenly the other housewives begin to question if her collapse was fake.
Watch the video on RadarOnline.com
While in a limo to meet Lisa for lunch, the woman talked about the infamous collapse.
"She was done," Brandi said, alleging that the faint was fake.
"I've never seen anyone faint so pretty and perfect," said Brandi, as she continued to slam Lisa, saying she wanted off the show.
"Brandi definitely has her opinions about her fake faint," Kyle said. "It wasn't just Kim and I."
Brandi sat with Lisa and brought up the faint, claiming the other women thought it was faked.
"There was a bit of controversy in the car over about whether you fainted for real or not," Glanville told Lisa before the other housewives arrived.
Article continues below advertisement
Lisa was stunned by the allegations.
"You'd think maybe your friends would be supportive or would that be too much to ask?" Lisa said in her confessional.
Lisa bluntly asked about the conversation when Kyle entered into the room.
"So what's this I hear you guys think -- after all this time you've known me -- that I would fake fainting," Lisa said.
Kyle got defensive. "Who just said this?"
Brandi chimed in, trying to backtrack and play innocent: "I didn't start the conversation…"
Kyle vented in her confessional: "The last thing I need is more problems with Lisa. Why you trying to put the blame on me? Thanks, Brandi."
Later, Carlton Gebbia revealed that she is a witch and believes in Wicca, but does not practice on the "dark side" anymore -- only the "light side".
Kyle apparently insulted Carlton by asking, "Have you ever explored with witchcraft?"
Carlton was furious, and admitted in her confessional, "Really Kyle? That is bloody rude, that is a bloody dumb question."
Article continues below advertisement
"You want to know me, get to know me but don't try to shock value me in people I don't know. I know how that works, I have known mean girls like you."
Kyle kept on laughing. "I don't mean casting a spell or driving a broom."
Carlton confessed, "Yes, I am witch, Wicca, which is what I practice, mother nature, all encompassing about the miracles on this planet."
"I have been involved in Wicca since age six. My grandmother was practicing and my mother was a psychic. Have I practiced dark? Yes. But now all I practice is light because I have children. I would never practice dark ever again."
Slamming her fellow housewives, Lisa retorted, "There are several witches in the group, but Carlton is not one of them."