'Disgusted' Kim Richards SLAMS Lisa Vanderpump For Bringing Up Mauricio-Kyle Cheating Rumors: 'I Wouldn't Allow Her In My Home Again!'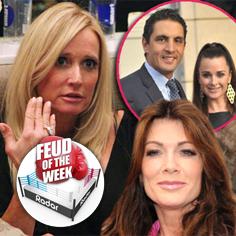 Article continues below advertisement
The drama didn't sit well with Kyle's sister, who took to her Bravo blog to slam the Vanderpump Rules star.
"When I saw and heard what Lisa said about Kyle and Maurice in front on my niece Portia, I was disgusted, but not surprised!" she wrote.
"This is behavior I have seen for years!! But she is showing her colors more and more!
"If I were Kyle, I personally wouldn't have her in my home again!"
For her part, Lisa tried to defend her actions, explaining in her own Bravo blog that she wanted to address the rumors head on.
"I would prefer face-to-face to acknowledge them and then in the same breath ridicule the constant nonsense," Lisa wrote.
Lisa insisted that she didn't believe the cheating rumors and had even tried to leap to her costar's defense a few days prior to the showdown.
"I had been at an event a couple of days prior and publicly denounced the validity of these rumors regarding Mauricio on the red carpet," she wrote.
Article continues below advertisement
"I was quoted using the terminology 'utter bullsh*t.' I had chosen my words carefully as I responded to the inquiring minds, because I was well aware that my reply would be documented everywhere and it was my duty as a friend to defend them," Lisa wrote.
Back in June, the cheating rumors first surfaced – but Mauricio quickly denied the infidelity allegations.
"I am faithfully and happily committed to my wife of 18 years, Kyle Richards, and our children, and am saddened to learn that someone would spread these ugly and vicious false rumors regarding me," Mauricio said in a statement.
"I do not intend to comment further on these false and utterly ludicrous accusations."
As we previously reported, the cheating storm is set to be a key storyline as part of season four of the hit Bravo show.