Kristin Cavallari Defends Not Vaccinating Her Children: 'There Are Very Scary Statistics Out There'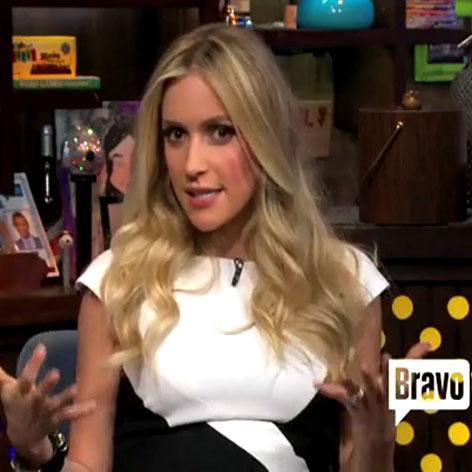 Former The Hills star Kristin Cavallari, who has one son and is pregnant with another, has defended her decision not to vaccinate her children.
The reality TV blonde, wife of Chicago Bears quarterback Jay Cutler, got a question from a fan about the issue on Tuesday night's Watch What Happens Live.
Cavallari explained to host Andy Cohen, "At the end of the day, I'm just a mom. I'm trying to make the best decision for my kid. There are very scary statistics out there regarding what is in vaccines and what they cause--asthma, allergies, ear infections, all kinds of things."
Article continues below advertisement
Referring to husband Cutler Cavallari added, "And we feel like we're making the best decision for our kids."
Cohen commented, "A personal decision. Good."
Cavallari joins The View hostess Jenny McCarthy in believing the controversial theory that vaccines harm children.
In 2007, McCarthy claimed that her son Evan's autism was caused by vaccination.
Many people cried foul at the idea, and as RadarOnline.com has reported, Cavallari raised eyebrows by also jumping on the anti-vaccine bandwagon.
MORE ON:
Kristin Cavallari
In an interview this month with FOX Business' The Independents, host Kennedy nonchalantly brought up McCarthy's view on vaccinations and their link to autism.
Pregnant with their second child, Cavallari, 27, admitted she and Cutler, 30, did not vaccinate their first son, Camden, 18 months, and don't plan to vaccinate their unborn son.
"With all those sneezy people and the Jenny McCarthys of the world not vaccinating their babies, it's crazy. Are you opposed to vaccines?" Kennedy asked Cavallari while they were talking about flying from Chicago to New York.
"We didn't vaccinate. I read too many books about autism and the studies," Cavallari revealed.
"There's a pediatric group called Homestead, or Home First…they've never vaccinated any of their children and they haven't had one case of autism. And now one in 88 boys is autistic, which is a really scary statistic," she said.