Tension Over Tresses? Hostility Simmers Between Separated Bruce & Kris Jenner Over Her Controlling Ways On 'KUWTK'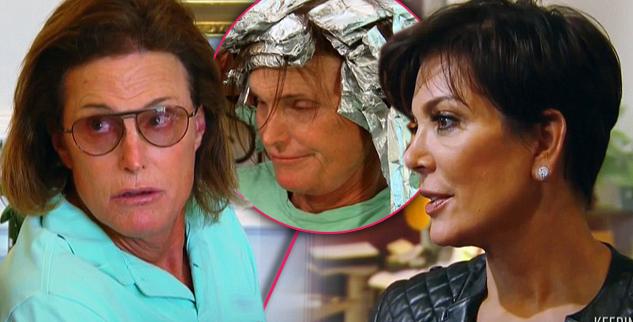 Bruce Jenner earlier this year spurred speculation he was undergoing a transformation, growing his hair and nails long and getting his Adam's apple shaved down.
And although estranged wife Kris Jenner has publicly denied reports he was undergoing a sex change (and that topic hasn't been raised on Keeping Up With The Kardashians), on Sunday night's episode, viewers saw the bizarrely feminine-looking former decathlete getting his hair done.
Article continues below advertisement
Celebrity hairstylist Philip Wolff tended to Bruce as Khloe Kardashian said her mom was adamant that he cut his ponytail off, but he refused.
"I have not had a hair cut in probably a year and something," Bruce said. "I want to keep it long in the front because I like wearing a pony tail.
"We're not getting rid of the pony tail."
Wolff suggested long layers, and Bruce was delighted by the result with the stylist only cutting off a half inch.
Watch the video on RadarOnline.com
"I feel very cleaned up," Bruce said.
He also got his hair dyed by colorist Tracey Cunningham.
But Bruce wasn't happy when Kris suddenly breezed into the salon.
"No, no, no, you're not allowed here!" Bruce shouted.
He told the cameras he had a good thing going until she came in and started making suggestions.
Bruce was outraged when Kris suggested more layering.
"Just because Bruce and I are separated doesn't mean I don't want him to look and feel his best," Kris told the cameras.
Article continues below advertisement
She complained to Khloe of Bruce's new 'do: "There's no coolness about that. It's like a hot mess."
As Radar has reported, Sunday's episode also showed Kris and Bruce getting into further conflict about her controlling ways even as they live separately.
She stocked his refrigerator at his Malibu bachelor house, saying, "You're going to get too thin."
"Just stop," he told her.
Meanwhile, Bruce was unhappy that his daughter Kylie didn't want to spend time with him.
"I don't want Bruce to get lonely," Kris told the cameras.
So Kris told Bruce he should join her and Kylie for a yoga class on a Malibu mountaintop.
Right away, Bruce, 64, disrupted the class by grumbling about his two knee surgeries.
He also sarcastically imitated the teacher's mantras, and then bailed to go golfing!
"We can't even talk; this isn't my idea of spending time with my daughter," he told Kris.
Article continues below advertisement
The, a rock climbing class Kris, 58, organized for him and Kylie also flopped, when Kris admonished her 16-year-old daughter for raiding her closet and taking her clothes. Kylie then said she was going to leave and Bruce got mad.
Lastly, Kris organized a cooking class for Bruce with Kylie, Kim, and the rest of the gang, but everyone was grossed out when Kim found a strand of long hair in the cod fish he had prepared!
"Maybe if you'd cut your hair, this wouldn't have happened," Kris said.
That's when Bruce unloaded on his estranged wife, telling her she was controlling and he didn't need that in his life.
"It might be better to let him fend for himself," Kris then admitted to the cameras.
In another storyline on the show, Kourtney and Scott Disick got an artwork appraised from his late parents' house. While Kourtney thought the Modigliani could be an original worth millions of dollars, Disick was skeptical — until an art appraiser raised their hopes that it might be real.
Disick made plans to buy a private jet — until another appraiser judged the painting to be a fake!
Although Kim had a low profile on the episode, she revealed to her sister Khloe on a funny moment on the show that daughter North West had been sitting on Kanye West's chest and then "she peed all over him."