Best Of Times, Worst Of Times: Kris Jenner A Cougar On The Prowl, While Khloe Kardashian's Marriage Disintegrates, On 'KUWTK'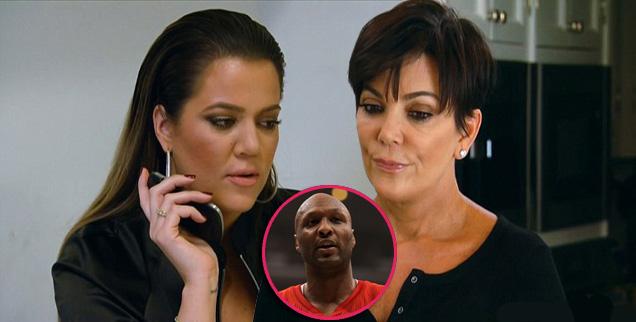 Article continues below advertisement
And, as RadarOnline.com readers know, Kris, 58, has caused cougar rumors for months by appearing to hook up with Ben, 31.
But on KUWTK, in the tale of two estranged wives, Khloe continued to confide in her family about how sad she was about her disintegrating marriage to Lamar.
At the end of the episode, Khloe told mom Kris, "Lamar came over last night at one in the morning. He goes, 'Where are you?' I'm like, I'm at home, please don't come here.'
"He's like, 'I just miss you. I haven't seen you in two months.' I said 'I miss you too, but I can't see you.' Of course, he comes to the house. I let him in. He's like, 'Can I sleep here tonight?' I'm like, no. It's just so sad. He looks good. It's so confusing," Khloe sighed.
She then told E!'s cameras, "No one knows what I'm going through or what I'm feeling every day -- I don't even know what I'm feeling every day.
Article continues below advertisement
"I wake up and sometimes, I'm really in a great mood, and sometimes I'm really angry, and confused and irritated at life. I just have to take it day-by-day and live my life the best that I know how and do what I feel is best."
Earlier, viewers saw Khloe (who has since filed for divorce) dealing with the aftermath of Lamar's August 2013 DUI, helping him by calling in famed legal eagle and former O.J. Simpson attorney Robert Shapiro.
"In jail, it was so cold," Lamar told Khloe over the phone while Khloe laughed that he was not there that long!
And Khloe showed tough love by insisting that Lamar show up at Shapiro's office on time.
"I don't want a warrant out for your arrest.," she said. "If you don't show up, he's dropping you as a client."
Lamar said he'd bring her champagne, but Khloe rejected his advances, saying she was working.
Article continues below advertisement
The basketball player's constant phone calls to Khloe and the rest of the family showed how much he was trying to get back into their good graces.
After Lamar's dad slammed Khloe and the Kardashians in an interview, Khloe told the family, "Lamar called and he was crying. He was sad and kept apologizing. He was sobbing on the phone."
Later, while Khloe and sister Kourtney were visiting their clothing boutique, DASH, Lamar called again and told Khloe, "I'm trying to fix what my father said to the media."
"I love Khloe Kardashian-Odom," he added.
Lamar even called Khloe's sister Kim to apologize for his father's interview!
"We can take it," Kim said. "No matter what happens, we're always your family and we're here to support you."
"The only sense of pride is standing next to you guys," Lamar told Kim.
Transformed By Surgery: Kim Kardashian's Nip Tuck Obsession Exposed
Scott Disick thought Khloe would be able to forgive Lamar if he got his life in order, but as the episode ended, it was clear a divorce was in the cards.
Article continues below advertisement
But Kris and Bruce, who announced their separation to the family during the Sunday night episode, have gone on with their lives.
And if Monday's episode was any indication, Kris is acting more than single -- and ready to mingle!
When Kim refused to hit the town with her longtime friend, publicist Jonathan Cheban, Kris volunteered to hang out with him instead.
Celebs Who Have Slammed The Kardashians
And when they discovered they enjoyed each other's company, the odd couple spontaneously decided to go to Sonoma to tour wineries for a couple of days, keeping it a secret from new mom Kim so she wouldn't get jealous.
Kris and Jonathan decided to get his and hers massages while in Sonoma and he came in and stroked her neck as a joke.
"Why are you massaging me?" Kris laughed.
After Jonathan also got on top of her (wearing his robe), Kris giggled, "If you get an erection, I'll kill myself."
Then the twosome hit the Envolve winery in Sonoma owned by Ben Flajnik, whom she said she met while doing her talk show, Kris.
Article continues below advertisement
Ben gave them a wine tasting while his adorable dog howled.
Later Kris, Jonathan, and Ben rode bikes in Sonoma and had a picnic.
Watch the video on RadarOnline.com:
radar_embed service=5min.com src="http://pshared.5min.com/Scripts/PlayerSeed.js?sid=281&width=560&height=345&playList=518090486"
"I've fallen in love with Sonoma," Kris said, smiling -- and looking right at Ben!
Later, back at the Jenner house, Kim confronted Kris and Jonathan, saying she'd seen their Instagram photos of the trip and wondering why they'd lied to her.
Kris said, "You said I wasn't fun to hang out with. We got a little carried away and I'm sorry."
In the last KUWTK plotline of the night, Kourtney and Scott's therapist advised the baby daddy to go get a worthwhile hobby so he wouldn't sit around feeling neglected by the Kardashian sister.
But Scott only pretended to practice karate and Kourtney was angry when she found out he wasn't earning a brown belt like he said.
Watch the video on RadarOnline.com:
radar_embed service=5min.com src="http://pshared.5min.com/Scripts/PlayerSeed.js?sid=281&width=560&height=345&playList=518090493"
After Lord Disick did some bogus moves, the teacher shook his head, and Kourtney told the cameras, "Leave it to Scott to NOT follow through with his therapy assignment."
But they patched things up after Scott started taking tennis lessons -- for real!