Kris Jenner Is 'Annoyed' That Kim And Kanye Aren't Getting Married: 'I've Tried To Take A Back Seat'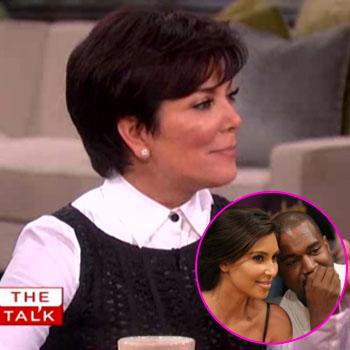 Kim Kardashian and Kanye West aren't getting married any time this year and Kris Jenner says she's "annoyed" by their decision because she stands by more old fashioned values.
The Kardashian matriarch appeared on The Talk Thursday afternoon and voiced her disappointment that Kim and Kanye won't be tying the knot — pointing out that Kourtney and Scott aren't married either!
"They're not getting married, that I know about. Not right now, that I know. I don't know… Why aren't Kourtney and Scott getting married?" Kris said.
Article continues below advertisement
"It's so annoying! I'm a little annoyed."
Kris even likened her girls and their baby daddy's to long-time couple Kurt Russell and Goldie Hawn, noting that she doesn't necessarily share the same beliefs in not being married.
"I think they all think they're Kurt Russell and Goldie Hawn now!" she exclaimed.
"I've tried to just take a back seat, keep my mouth shut, kind of learn that this is the way they're doing this and I don't know where they got this because I'm very old fashioned that way."
As RadarOnline.com exclusively reported earlier on Thursday, Kim and Kanye have no plans to marry this year — and even though Kris said she's annoyed the two aren't tying the knot, a source told RadarOnline.com she's actually against them getting married.
"This will be Kim's third marriage, and Kris doesn't think the Kardashian brand can handle another divorce," a family insider told RadarOnline.com.
"Kris would be happy if Kim and Kanye never married because he doesn't let her call the shots."