Thanks For The Advice Kim! Kourtney Kardashian Teary Eyed In Paris After She's Stood Up By Scott Disick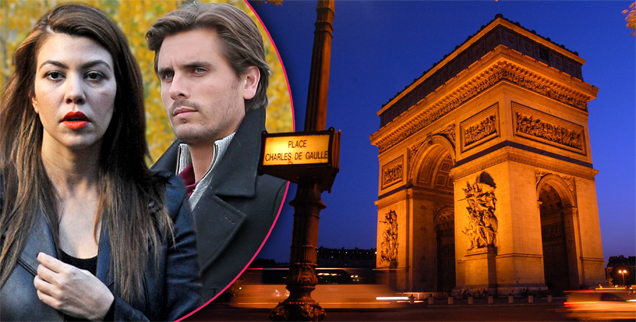 Kourtney Kardashian burst into tears on Sunday's Kourtney and Kim Take Miami, after her baby daddy Scott Disick forgot about a visit she planned for them to take together to a romantic hotspot during their trip to Paris.
Kourtney planned the trip to France's City of Light after a heart-to-heart with her sister Kim about the lack of sizzle in her relationship with Scott.
Scott was nowhere to be found though when Kourtney, 33, visited the Pont l'Archeveche bridge, a landmark where lovers attach a symbolic lock to convey their unity. Scott's absence caused the oldest of the Kardashian sisters to break down in tears over their deteriorating relationship.
Article continues below advertisement
"I am so upset that Scott didn't show up at the bridge, that he didn't take me seriously and would stand me up like this," she tearfully told the camera.
The no-show led to a bitter argument later where Kourt told her partner that she planned the trip because she wanted to give him the proper attention.
Scott, knowing he was in the wrong, admitted, "While Kourtney's trying, I don't even realize it - I feel like such an idiot."
They kissed and made up, and at the end of the show, the two took the long-awaited trip, where they immortalized their love with a lock that read, "Kourtney and Scott forever."
Kourtney and Kim Take Miami airs Sundays on E! at 9/8c.