Kim Zolciak Blames Editing & 'RHOA' Production For 'Out Of Context' Racist Comment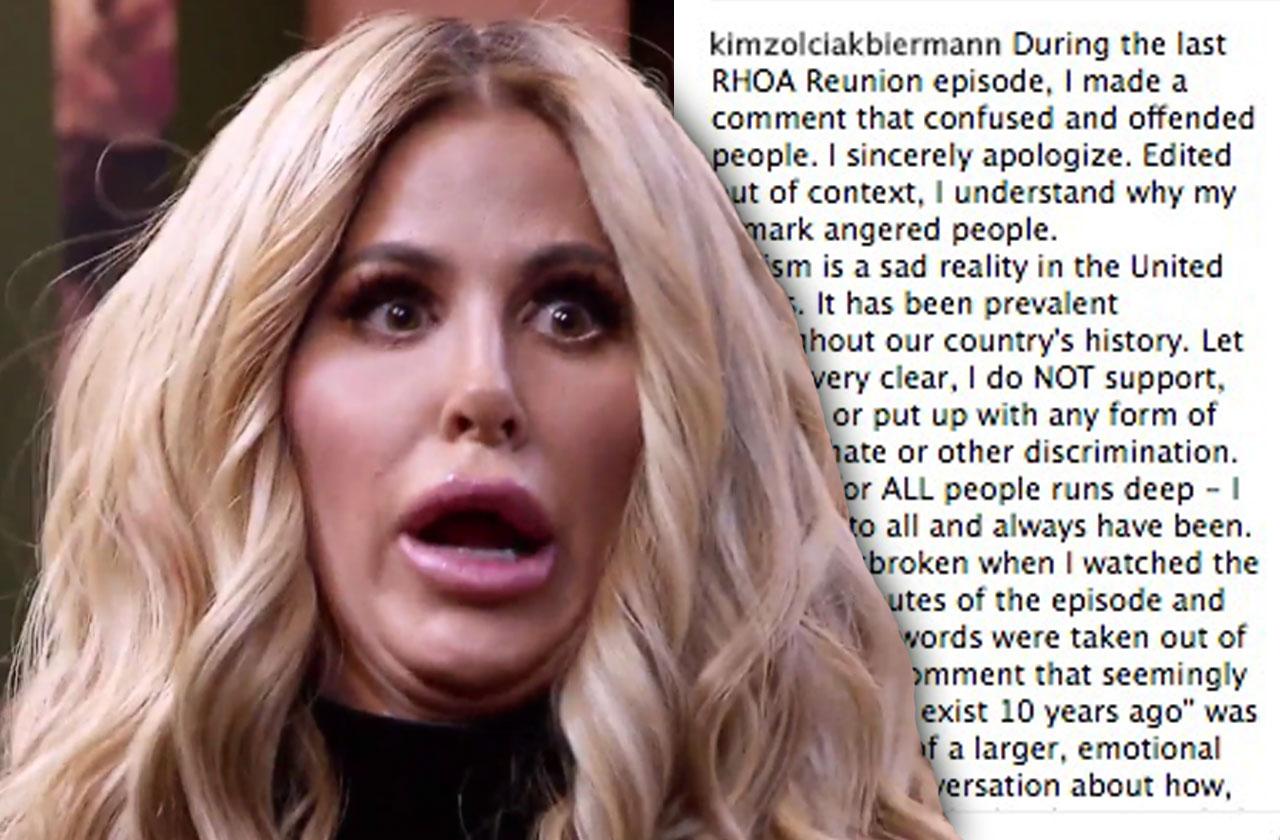 Kim Zolciak is not staying quiet about her controversial — and very dramatic — Real Housewives Of Atlanta finale. This Thursday in a shocking Instagram post, the reality star defended her allegedly racist comment, blaming editing and productions for taking her words out of context.
"During the last RHOA Reunion episode, I made a comment that confused and offended people. I sincerely apologize. Edited out of context, I understand why my remark angered people," Zolciak wrote.
Article continues below advertisement
"Racism is a sad reality in the United States," she added. "It has been prevalent throughout our country's history. Let me be very clear, I do NOT support, tolerate or put up with any form of racism, hate or other discrimination. My love for ALL people runs deep - I am open to all and always have been."
As RadarOnline.com readers know, Zolciak has been bashed for a series of allegedly racist comments she made, starting with the NeNe Leakes cockroach debacle.
After the scandalous RHOA finale, host Andy Cohen confronted her about the roach drama and how it was often used as an offensive term towards African Americans. Zolciak wasn't having it, and defensively replied: "You're f**king reaching. You're reaching!"
"I was heartbroken when I watched the last few minutes of the episode and saw how my words were taken out of context," Zolciak continued in her Instagram message. "My comment that seemingly "racism didn't exist 10 years ago" was made as part of a larger, emotional 45-minute conversation about how, sadly, social media has become a hub for hate. Immediately following my confusing comment, I also said that "it's not as real as it is now" referring to the power of social media. But those remarks didn't make the show."
MORE ON:
Real Housewives of Atlanta
Article continues below advertisement
As readers know, NeNe Leakes, 50, also slammed Zolciak for her comments, even causing her to have a tragic meltdown on the RHOA finale!
"I believe that social media has made a centuries-old issue more real. Before social media, the public simply observed the news. Now, the public actively participates and has an opportunity to take action – in real time," Zolciak explained. "But this is a double edged sword. Now, when false accusations are made, they are amplified by online platforms regardless of their merit. This wasn't the case 10 years ago when I started on RHOA."
"I truly pray that the people wishing horrible things on others, and on me, channel that energy into something positive. Our world would be a much better place if you do," the star continued. "I am committed to making this world a better place to live. I will continue to learn from, and be open to, ALL people."
What do you think about Kim Zolciak's apology and wild explanation? Sound off in the comments below.
We pay for juicy info! Do you have a story for RadarOnline.com? Email us at tips@radaronline.com, or call us at 800-344-9598 any time, day or night.