More Concern For Kim! Housewives Of Beverly Hills Suspect Relapse When Richards Acts Erratically In Paris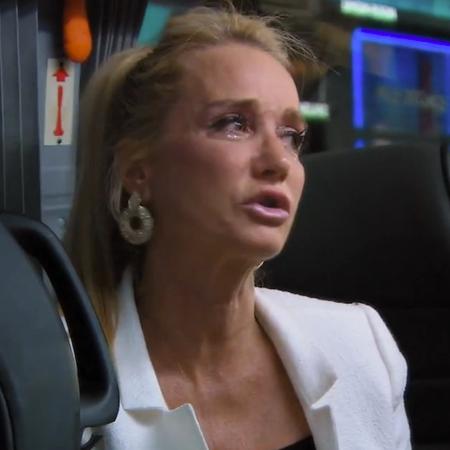 As The Real Housewives of Beverly Hills continued their Parisian vacation, it was deja vu for the ladies as Kim Richards' bizarre behavior caused everyone to worry that she was going to overdose on prescription medication, and RadarOnline.com has all the details.
When the Housewives met outside of their hotel to attend a private cooking class, everyone was present and accounted for except Kim. When her sister Kyle Richards and Yolanda Foster went up to Kim's room to check on her, Yolanda quickly became uneasy.
Article continues below advertisement
"My heart is kind of starting to beat in my chest," she confessed.
"I feel anxiety because you hear so many awful stories these days of people mixing medications, and at this point, I'm a bit worried that that might be the scenario."
Yolanda continued, "I worry that she goes to bed and who knows? You just don't know. You hear so many stories of people not waking up."
The newest Housewife wasn't the only one who was concerned about Kim's use of prescription medication.
"Isn't the whole point of coming out of rehab to be totally clean?" Lisa Vanderpump asked.
"Kim has told me she's taking prescription drugs to help her on her road to recovery, and I just pray to God that this isn't a whole new set of problems."
Even Kyle was concerned when she went to check on her sister.
"I'm scared," Kyle said. "I don't know what I'm going to find on the other side of the door."
After many minutes of banging on the door, Kim finally answered and appeared very disheveled.
Article continues below advertisement
"There was no alcohol bottles, I don't see any medication bottles, and her hair is sticking out and all sleepy," Yolanda said. "Thank God she just overslept."
When Kim finally made it down to the car, Lisa bluntly asked her, "Did you take a sleeping pill or something?"
"Sleeping pill? That would mean that I had relapsed," Kim said. "Don't talk to me like I stay in my room and sleep all day because that's not the case."
Tune in next Monday night at 8/7c on Bravo to watch more of The Real Housewives of Beverly Hills in Paris.