Kim Kardashian's Scary Birth Shown On KUWTK: 'My Liver Is Shutting Down,' She Tells Khloé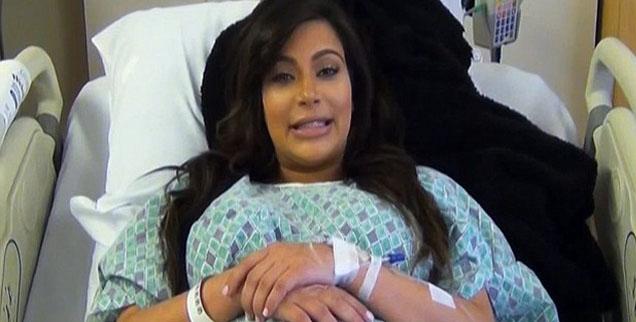 Kim Kardashian got engaged to her baby daddy Kanye West this week, but on Sunday night's episode of Keeping Up With the Kardashians, viewers went back in time to see her give birth their baby daughter, North.
As viewers already know, Kim delivered the child five weeks early on June 15, and Sunday's episode revealed just how serious the complications were. In one scene, Kim phoned sister Khloe to say, "I have something called toxemia.
Article continues below advertisement
"I have really high blood pressure. My liver is shutting down. The only way to get rid of it is to deliver the baby. I have to deliver the baby today."
A startled Khloe asked, "Is that safe?"
"I don't know," Kim replied. "I just want to be calm."
With her boyfriend Kanye still on a plane, Kim relied on her mom and sisters to get her to the hospital.
She couldn't get in touch with momager Kris Jenner at first, but finally reached her.
Kris rushed Kim to the hospital while Khloe told the cameras because the baby was five weeks early, "I don't know if the baby is going to have to be in an incubator, so it's definitely scary."
Meanwhile, Kris got such high anxiety that she yelled at her other two daughters over the phone before picking Kim up. Khloe and Kourtney later joined them at the hospital.
Khloe's camera phone then captured Kim in her hospital bed saying, "I just got an IV and it really hurts. I have toxemia.
Article continues below advertisement
"So we're officially going through this," she said of the impending birth.
Addressing her baby daughter, Kim smiled, "Dad is on a plane. I can't wait to meet you."
But cameras were not allowed in the delivery room and viewers learned what happened when Khloe told stepdad Bruce Jenner at his Malibu house about Kim giving birth to the 4 1/2 pound baby -- and Kanye being there for the touching moment.
She said "Kanye was literally staring for ten minutes and saying, 'This is like crazy.' "
"Was mom driving everybody crazy?" asked Bruce, who, as RadarOnline.com readers know, has split from Kris and is living separately.
"I can't wait to see the baby," the proud stepdad then said.
Meanwhile, control freak momager Kris lamented about the baby being five weeks early, meaning she had to get the home nursery in shape in just 24 hours!
Bizarrely, Bruce arrived at his former family home as Kris was cleaning all his stuff out of the garage and he drove away with all his belongings packed in the car.
Article continues below advertisement
"They're just doing a little bit more blood work," Kim told Kris when phoning her from the hospital.
Kim said they had to wait an extra day at the hospital because of North's recovery.
"It's just a little jaundice," she told her mother.
Kim later complained her boobs were the size of cantaloupes!
Meanwhile, sister Kourtney didn't think the nursery Kris had designed was even close to being appropriate, and switched things around to better suit the baby.
"My mom is focusing on the wrong things," Kourtney sighed to the cameras.
Kris said she had been working around the clock trying to get it ready.
"You guys are making me feel like s***!" Kris shouted.
After the whole family got whooping cough shots to protect the new baby, Kim called and announced she and Kanye were thinking of just giving the baby one name, North, instead of calling her North West.
Khloe objected and didn't want North to be like Madonna!
Article continues below advertisement
When Kim and Kanye pulled up to the Jenner family home with the baby, however, E! cameras didn't show the emotional family reunion--and only a photo was shown of North during the episode.
As RadarOnline.com readers know, Kanye has objected to their daughter appearing on KUWTK -- and as a "trade-off," a source said, he agreed to let E! cameras film his marriage proposal to Kim on her October 21st birthday this past week instead.
Kim revealed to Khloe on Sunday's show how she is dealing with Kanye's privacy policy regarding North.
"From the start, Kanye is like, 'I'm not comfortable with selling her photos, like, in a magazine reveal, to having her on the show.' "
Kim said she personally loved seeing her sister Kourtney's children, Mason and Penelope, on KUWTK "but I do feel there's just a different dynamic with Kanye.
"To each their own. I signed on to do this show but it doesn't mean Kanye and my child have signed on to it. I'm fine with keeping them more private.
Article continues below advertisement
"I'm still an open book. I still share my life but you can't expect everyone else to want to jump in to a career that they just don't want to be in," she concluded.
Later, the famous mom proved she's still more than an open book -- and determined to show everyone she still has a hot body!
When her sister, Khloe asked Kim if she still wanted to do a post-birth Playboy shoot, she replied, "I just want to come out to the world naked and be like, " she then paused and flashed the double bird on camera (which E! digitized out).
"I look so hot!" she bragged.
Kim, obviously still smarting about critics of her enormous pregnancy body, said, "I am back! You all called me a whale, Shamu, a cow.
"When I came back from the hospital, the first thing I did was go look at my v** in the mirror," she told Khloe. "It looks better looking than before."
The sisters also discussed how pregnancy made Kim's famous breasts even bigger.
"I've never seen boobs that big in real life, ever," Khloe commented.
Article continues below advertisement
"Anna Nicole Smith?" Kim suggested.
The sisters also laughed about Kim getting her breast milk pumped in front of Kanye!
"Do you do you pump in front of Yeez?" Khloe asked.
"I had no choice in the hospital," Kim sighed.
"I was literally out of it and they were like putting pumps on me, and I'm like, 'Please don't stare at this.'
"So now, I've just gotten used to it and he'll come in the baby's room and I'll try to pump in there."
"Does it bother him?" Khloe asked.
"No!" Kim said.
As RadarOnline.com has reported, Kim has said her reality show depicted her pregnancy as easier than it really was.
Watch the video on RadarOnline.com
And on Sunday night's KUWTK, she told Khloe, "Labor was honestly the easiest thing ever."
"I did not feel one thing. It was not hard and just staring at her--everything they say that happens, you fall so in love and it's this deep connection, is true. It's so crazy. You want to be so protective and so different and truly nothing else matters," Kim gushed to the cameras.
Kim said North was her best friend.
"I hang out with her every single day," she told Khloe on the episode.
"I feel really good," Kim told the camera. "My pregnancy has definitely been a journey."
At the end of the episode, Kim said she wanted to take cooking lessons for her new family.