Pregnant Kim Kardashian Slams Weight Gain Reports, But Admits She Hasn't 'Adjusted Great' To Body Changes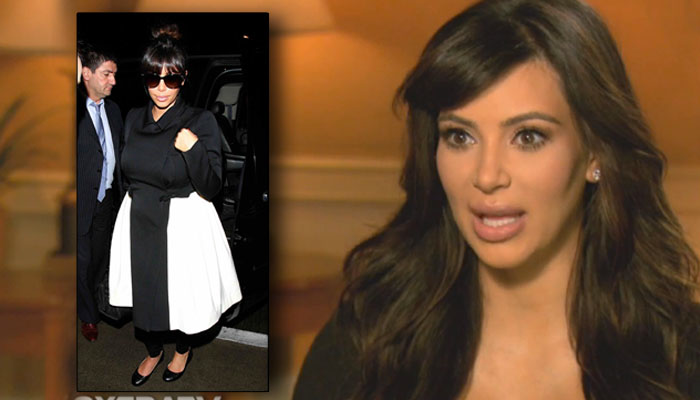 Kim Kardashian wants everyone to know that she hasn't gained as many pregnancy pounds as people think!
But the other thing you should know is she admits she hasn't adjusted great to carrying around the extra pounds and that it has been difficult.
While promoting her new Tyler Perry movie Temptation, the reality star, who is pregnant with her first child with Kanye West, addresses recent reports that she has packed on the pounds. Kim claims that she is eating super healthy – and RadarOnline.com has the details.
Article continues below advertisement
"I'm not going to lie and be like, 'Oh, it's been amazing and I've adjusted great,'" she told Extra's Maria Menounos.
"At the beginning it was tough for me when your body changes so much… I don't think anyone will really prepare you for what the changes are, but once you kind of grasp that and embrace it... it's amazing."
However, Kim has not gained as much as some people think.
"There are maybe two or three covers just this week that say I am 200 pounds. I'm like, 'You are 60 pounds off here'… It wouldn't even bother me if I gained all the weight," she claims.
"This is the time when everyone's like 'you should be pigging out, eat whatever you want.' And I have the biggest sweet tooth and I love junk food. Being pregnant I don't like any of it," Kim says about her pregnancy cravings, revealing that she is eating lots of "carrots and celery and ranch and like protein bars, gluten free stuff, sugar free stuff."
"I'm waiting for the moments when someone's like let's go to McDonald's and Taco Bell -- that's not happening for me and I'm kind of sad about it."
Article continues below advertisement
As for baby names, there is a 50/50 chance that the couple's spawn will be gifted with a "K" name.
"I think it would be really cute cause Kanye and I are both K's, so just for us and our family, not the Kardashian thing, even if my mom never did that and it was just Kanye and I, I think it would be cute if him and I went with the K name," she explains. "But half the names on our list aren't K's… we still have time, whatever feels right… Kanye being the father wants something that's unique."