Kourtney & Kim Take Miami Finale: Kim Kardashian Suffered Burst Ovarian Cyst After First Month Of Pregnancy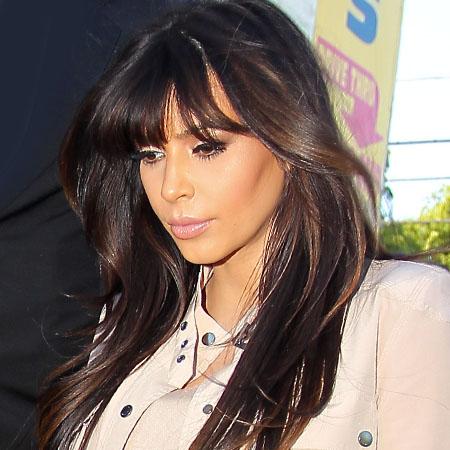 Kim Kardashian suffered a burst ovarian cyst after her first month of pregnancy with boyfriend Kanye West's baby.
The high drama was revealed on the season finale of Kourtney & Kim Take Miami on Sunday night, and the episode also showed how Kim broke the news of her pregnancy to sister Khloe Kardashian, who has been battling infertility.
As RadarOnline.com has previously reported, the season ending episode showed Kim tell sister Kourtney Kardashian that she was pregnant. The moment happened after Kim suffered excruciating stomach pains and had Kourtney rush her to the hospital. After she spent six hours in the hospital and underwent numerous tests, Kim said on the show, "The MRI showed in my ovary, there's a cyst, and it just burst. So it was so painful but at least we know that there's no harm to the baby or me. I'm just glad to know that everything's okay and hopefully it will be smooth sailing from here."
Article continues below advertisement
After her medical crisis ended, Kim opened up about how stunned she and Kanye were about the unexpected pregnancy, telling Kourtney, "Kanye and I are like, 'is this happening? Oh, my God. I can't handle this.' "
The reality star, who previously believed she might have fertility issues, later declared on-camera, "The whole plan with my doctor was to go to Miami, get off birth control, really clean out my system, freeze my eggs -- and then I got pregnant."
Kim is still undergoing a bitter divorce from Kris Humphries, the husband she split from after just 70 days. And on her show's finale, Kim admitted, "I was freezing my eggs because I didn't want to get pregnant right this second. I wanted to wait until I was divorced and hopefully remarried, so this whole experience for me has been just shocking and exciting -- but still shocking -- so I feel like I really needed to digest it so I needed that time to myself before I was ready to tell anyone."
Article continues below advertisement
But the cat was out of the bag with Kourtney, and Kim then decided she also needed to tell Khloe, who hasn't been able to get pregnant yet with husband Lamar Odom. Although she feared hurting Khloe's feelings because of her infertility, Kim delivered the news and Khloe couldn't have been happier for her. "That's amazing! Congratulations!" Khloe said on the show, giving her sister a big hug. "Your ass is going to be so big. I'm so happy for you. The more babies, the better."
The pregnancy news also ended the feud between Kim and Kourtney's husband, Scott Disick. Although Scott found out Kim had him tailed by a private eye to monitor his partying, Kourtney's baby daddy forgave her after learning she was pregnant. "That's unbelievable!" Scott crowed with joy on the Kourtney & Kim season finale. "I love her and I'm so excited she's pregnant,, and I can't wait 'til her baby is crying, and her not having an easy time. This is the biggest gift we could ever ask for."
When Kim sighed that she was still married to Kris, Scott acted like an outraged brother, pointing out, "because he won't let your paperwork go through, you're not going to move on with your life? Get with it!"
Watch the video on RadarOnline.com
Well, Kim certainly has! Now six months along, she just happily tweeted a picture of her pregnant belly.