What A Relief! North West Peed On Daddy Kanye During Long-Awaited Vogue Shoot, Kim Kardashian Says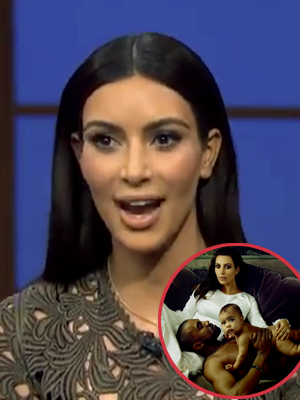 Kanye West's daughter peed on him during his Vogue cover shoot with Kim Kardashian, the magazine's newest cover girl told Seth Meyers Tuesday.
The 33-year-old reality TV star — in her first interview since news broke of her cover on the fashion bible's April issue with West — said their big moment was left somewhat sullied by their 9-month-old daughter North West, after she urinated on her rapper dad while taking a family picture for the magazine.
Article continues below advertisement
Kardashian said the soggy surprise occurred while the photographer was taking a close-up shot of the family lying on a couch.
"North peed on Kanye in that shot," she said. "He was trying to tell me. I had to get up and clean him off."
Kardashian, who had longed to appear on the cover of Vogue for many years, also explained how she kept the photo shoot a secret from all of her friends and family, including her sisters Kourtney, 34, and Khloe, 29. (Only her "Momager" Kris Jenner knew, she added.)
Revealed: 35 Secrets The Kardashians Want Hidden
"They were a little suspicious," she said, adding that Jenner "knew because we used part of her house, but I told them it was something for Kanye. I don't keep the best secrets."
Watch the video on RadarOnline.com
The reality star gushed over the history-making cover, adding: "I knew it was happening, of course, but I didn't know it would be the cover. I'm just so honored; Kanye's the first rapper, I'm the first reality star, and we're the first interracial couple" to grace the cover of the venerated publication.