Kissing Up To The Kardashians? 'Vogue' Calls Kris Jenner 'Agelessly Glamorous' — As Momager Tries To Get Interviewer Drunk!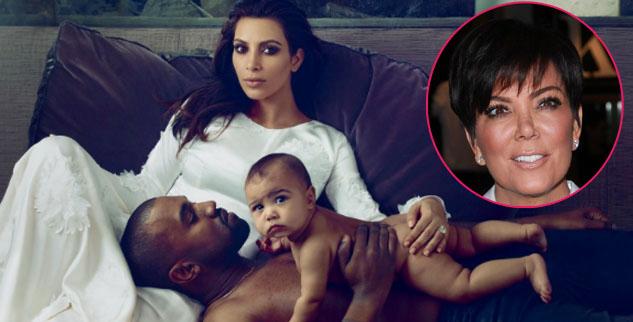 Is Vogue Kissing Up to the Kardashians?
That's what readers of the prestigious Anna Wintour -helmed fashion bible must be wondering as the article attached to Kim Kardashian, fiance Kanye West and daughter North West's photo spread praised momager Kris Jenner to the skies!
However, Jenner showed her reality TV style by offering the interviewer vodka!
In the April Vogue spread, which, as Radar readers know, has caused furor for featuring Kimye, journalist Hamish Bowles noted that Jenner floated in during the photo shoot to see how everything was going.
Article continues below advertisement
Revealed: 35 Secrets The Kardashians Want Hidden
" 'Anybody need anything?' asks the agelessly glamorous, apricot-skinned Kris, fluttering eyelashes as thick, long, and lustrous as a hummingbird's wings," Bowles wrote rapturously.
But then, Jenner, known for her bawdy comments while holding a cocktail or wine glass on Keeping Up with the Kardashians, reverted to her usual form.
"Water? Vodka? Get on my train," she laughed to writer Bowles.
Jenner, 58, then added, "Just kidding!"
But was she?
In any case, Bowles continued to give a big kiss to Kris (metaphorically speaking), by writing that she "is an astute businesswoman and executive producer" of KUWTK.
However, he didn't mention Jenner's failed summer talk show!
Instead, he added that Jenner kept her home office stacked with Kardashian product and magazine spreads and "there is even a framed copy of her estranged husband Olympic gold medalist Bruce Jenner's GQ cover."
Article continues below advertisement
Further, Kim Kardashian, 33, helped her mom show fashion cred in the article by gushing about how Jenner wore such designers as Chanel and Moschino back in the day!
"She had an amazing body and was always so in shape," Kardashian said. "One time Kourtney and I sat in my mom's closet--we must have been eight or nine--and we were like, 'If Mom does, we're going to write down who gets what.'
"We went through every last piece of her wardrobe. We were so mean then!" Kardashian told Vogue.
Meanwhile, in the lush photo spread, little North sat on her mom's knee.
Kardashian confided about her nine-month-old daughter with West, 36,"Kanye's side of the family calls her Nori."