Fishy Foot Fetish! Kim Kardashian 'Freaks Out' Getting Bizarre Beauty Treatment With Kourtney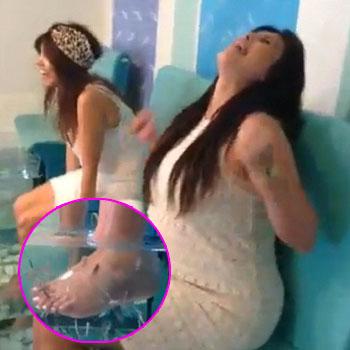 Article continues below advertisement
Flaunting her huge baby bump in a cream colored mini dress, Kim places her feet in an aquarium filled with little fish, who immediately start nibbling at her skin.
"I hate it, I hate it," she wails in her Keek video, as the fish "eat the skin off her feet."
Kourtney, on the other hand, doesn't seem bothered by the eccentric exfoliating treatment.
"It's just the weirdest thing ever," Kourtney calmly describes the procedure.
As RadarOnline.com previously reported, Kim also went in for a gruesome "vampire facial" on recent episode of Kourtney & Kim Take Miami.
"I love trying anything that makes you look and feel youthful," she said before the procedure, which rejuvenates the flesh using processed blood drawn from the patient and injected back into their face.
Would you get a fish pedicure? How about a vampire facial? Sound off below.