Kim Kardashian Learns Devastating Pregnancy News On KUWTK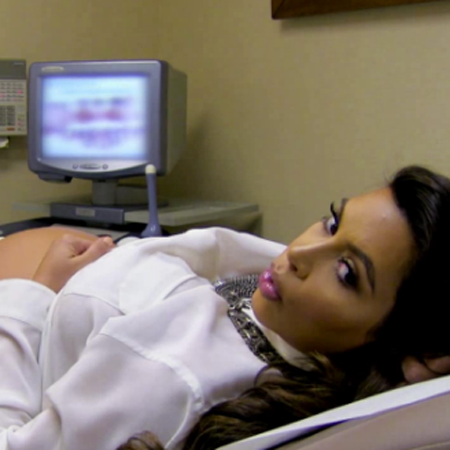 Keeping Up With the Kardashians viewers got to see an unfamiliar sight on Sunday night's episode -- Kim Kardashian without full hair and makeup!
And after ditching her glam squad for once, the high maintenance beauty received scary news from her doctor that she was likely to have a premature baby.
With her friends Lisa and Brittny Gastineau looking on, Kim's obstetrician told her her cervix was getting bigger and the baby weighed "exactly five pounds. The head is down pretty low on the pelvis. This is not good."
Article continues below advertisement
Kim said, "This freaks me out."
Her doctor told her it was possible she'd have the baby before her due date.
And as Kardashian watchers know, Kim DID give birth to healthy daughter North by baby daddy Kanye West five weeks early in June.
But fans continue to follow the pregnancy journey on the show.
"I'm worried about the health of my baby," Kim sighed to the cameras.
As RadarOnline.com previously previewed, Kim had her priorities out of whack as she firmed up her delivery details on Sunday's show.
During the episode, Kim's sisters Khloe and Kourtney were upset about her plans to be in full glam makeup while she gave birth.
"I think Kim's so pretty with no makeup on," Kourtney said, also telling the cameras, "it's a little bit unrealistic" of her famous sister to be all dolled up in the delivery room.
"I need a spray tan and a wax," a very pregnant Kim sighed to her sisters, while she didn't even know how to book a hospital room!
Article continues below advertisement
And as RadarOnline.com has already reported, Kim was dreaming of when she would return to her usual sexy form, telling her sisters, "As soon as I pop this out, I want to do Playboy or some nude shoot.
"I'm going to be a sexy, hot mom," she vowed.
Later, however, Kim's stepsister-in-law, Leah Jenner, convinced the star to go makeup-free and let her hair down.
Leah was shocked when Kim complied!
Leah exclaimed, "I have never seen you with no makeup on until today."
Kim insisted, "I'm not always about the glitz and the glam."
They took a yoga class together, and the teacher told Kim, "Allow your baby to feel wanted."
"What if my water broke right here," Kim joked.
Meanwhile, Leah, the wife of Bruce Jenner's son, Brandon, wanted Kim to focus on how she felt instead of what she looked liked.
Later, at Brandon and Leah's urging, Kim drove their pickup truck to feel fun and adventurous.
Article continues below advertisement
In another KUWTK plot, Kim, Khloe, and Kourtney conspired to fix up their grandma MJ-- Kris Jenner's mom Mary Jo Shannon-- with men on a senior citizens' online dating service.
Kris sparked the idea after telling her daughters she went to look for condos in the L.A. area for MJ.
Since her husband Harry Shannon died, widow MJ has lived alone in the San Diego area.
"I don't want her to be lonely," Kris told her girls.
Khloe concluded, "She needs a man."
The sisters promptly signed up their grandma on seniormatch.com., and interviewed a few men they thought would be appropriate.
"Hopefully we can find MJ a little boy toy," Khoe laughed.
Kim said, "Khloe, old people are not attractive!"
Later, at the Jenner house, the three interviewed bachelors--Walt, Norman, and Ken--on MJ's behalf.
In a humorous moment, when one of the guys confirmed he dated all races, Khloe told him, "I'm the same way."
Article continues below advertisement
Khloe and Kourtney also told momager Kris how they were trying to hook up their grandma.
When she didn't reply, Khloe teased, "Mom, are you being intimate with someone right now? Hello?"
They concluded that MJ might like a low key guy, just like their mom.
Kourtney said, "She likes to be in charge."
Khloe said, "She's a Kardashian!'
But when Khloe and Kourtney told MJ about their matchmaking, she wasn't interested, saying, "You shouldn't have done that."
Khloe said in confessional, "I feel really bad. I don't know why we did this."
Later, when they met MJ for lunch, they told her one of the men was coming to meet her--and their grandma was having none of it! She took off before the suitor got there.
"Kourtney and I are the worst matchmakers ever," Khloe sighed, and explained to the disappointed date that MJ wasn't ready for love again yet.
In the other major KUWTK storyline, the famous family struggled with the paparazzi.
Article continues below advertisement
Bruce and his daughter Kylie were bugged when he tried to give her driving education and were surrounded by a group of photographers.
Kylie was scared because her car looked just like Kim's.
"I know I'm going to be followed everywhere," she told her dad.
Bruce was distressed that paparazzi were going to take normal experiences away from Kylie.
"I don't get mad very often but these guys are ticking me off," he told the E! cameras.
The frenzied father got out of their SUV and shouted at the snappers, "Quit following! Get a life! You big f***ing chicken! Get the f*** out of here."
Bruce chased the pap as Kylie yelled for him to get back in the car.
Bruce called Kim to let her know paps were stalking them.
"All the males in our family want to protect us," Kim said in a confessional segment.
Later, at Kourtney and Scott Disick's house, Khloe called the cops and complained about paps because she said she was hit by one of their cars.
Article continues below advertisement
But the officer, who said he'd write a report, advised Khloe there wasn't much she could do.
Brother Rob agreed, telling Khloe, "You're not going to win."
Khloe also talked to Kim about the aggressive paparazzi.
"I'm completely scared for Kim," Khloe said. "It's like Princess Diana, how aggressive they were with her."
Although Kim said, "I'm not Princess Diana," Kourtney believed Kim didn't realize how dangerous the situation could be when giving birth.
Khloe said, "She's going to have an escape plan together."
After a scary incident while in the car with her friend Jonathan Cheban, when the photographers took over her driveway, Kim told the cameras, "I'm in the line of fire."
Later, she admitted, "It's not safe. I have to come up with a plan."
Kim decided she'd talk to her security team--and might hide out at Khloe's house and rent a new car so she couldn't be identified when leaving for the hospital.
She also told her makeup people, "I love you guys but I don't need glam."
"Sometimes you have to take life for what it is and enjoy the ride," Kim said as the episode ended.