As Kim Kardashian Prepares To Reveal Her Baby's Sex, Momager Kris Admits 'I'm Really, Truthfully Nervous' About The Birth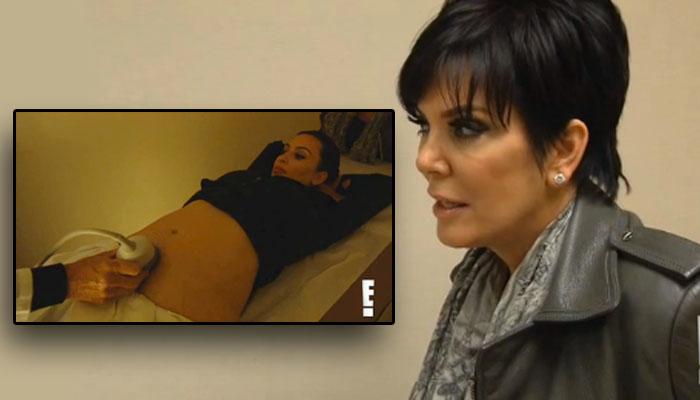 Kim Kardashian will be revealing some exciting news during the season 8 premiere of Keeping up with the Kardashians.
During an OB-GYN visit, which fans will see in the first episode, Kim learns the sex of her baby.
In a new preview video for the premiere episode, which you can watch below on RadarOnline.com, Kim gets an ultrasound.
"Once I knew the sex is when I got so excited," Kourtney Kardashian — who has son Mason, 3, and daughter Penelope, 10 months — tells her sister Kim.
Article continues below advertisement
Unfortunately, the baby's father, Kanye West, was not present during this visit.
"It was the girls," Kim's sister, Khloe Kardashian, told Ryan Seacrest, on his radio show Friday.
"We went a couple of times with Kanye. But the baby was always in a position that you couldn't tell the sex, and then this time that you're going to see on the show, he was in London or Paris. He had a concert."
But Kanye won't be missing out on the next big baby moment: Khloe confirmed RadarOnline.com's report that Kanye will be attending Kim's baby shower this coming weekend.
"It's girls, but Kanye will come at the end," Khloe said.
"But then I think Scott Disick and Lamar Odom might bring Kanye. That might happen at the end. That's what we were all deciding. Because Kanye says he feels a little weird for him to be the only guy at it. I think if all the guys come at the end, it's good."
This season of the Kardashians, we will also get a look at Kim's whole pregnancy and the difficulties she had to encounter along the way.
Article continues below advertisement
"Kim's pregnancy… it's been much more difficult than Kourtney's and so you get to see that," Khloe said. "I think it's really vulnerable of Kim to show that stuff because it's not all pretty."
And with Kim due in July, her mother, Kris Jenner, is worried about how Kim is going to handle the birthing process and her first-time motherhood experience.
"I'm really, truthfully nervous about Kim giving birth and getting through this whole baby thing," Kris said. "That, for me, I'm excited and anxious at the same time."
Keeping Up With The Kardashians premieres June 2.