Moore RHOA Drama! Kenya Gets Into Screaming Match With Porsha Stewart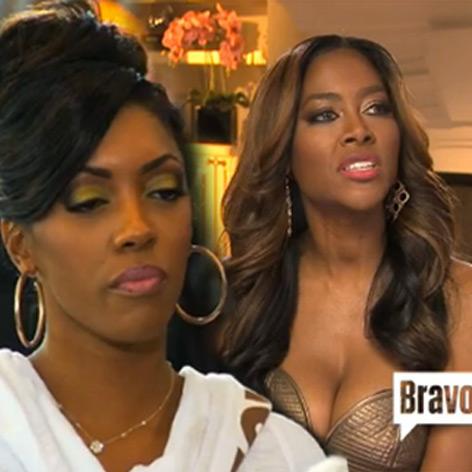 She's already in the middle of a feud with her The Real Housewives of Atlanta co-star Phaedra Parks over their rival "booty" workout DVDs.
But now Kenya Moore is widening her pool of enemies by getting into a public – and very loud – screaming match with fellow housewife Porsha Stewart.
In a sneak peek of Sunday's episode, the two women meet at a posh Atlanta restaurant to talk about why their relationship is going sour. Even before they begin, Kenya dramatically tells their waiter to "take the knives off the table, just in case."
Article continues below advertisement
She then tells Porsha she thinks Phaedra is poisoning their friendship, saying: "I feel like the whole reason that a…relationship is starting between you and Phaedra is because of a fall-out between me and Phaedra over a business situation .
"And all of the things that she's been saying about me are not true."
Porsha responds by saying: "I already knew that you and Phaedra have beef, or something going on. But whatever Phaedra's telling me is not what has affected our relationship.
"It just went real, real bad, real fast. Phaedra has never been in between that."
The discussion reaches fever pitch when Kenya accuses Porsha of being a "pawn," saying she is trying to have a "grown woman conversation" with her.
But the fur really starts to fly when she tells Porsha: "I need to have a woman in front of me to be able to do that."
As the argument and their voices escalate other diners look visibly annoyed by the noise the screaming housewives are making.
Article continues below advertisement