Kenya Moore Says She Doesn't 'Want A Daughter' Due To Dysfunctional Relationship With Her Own Mother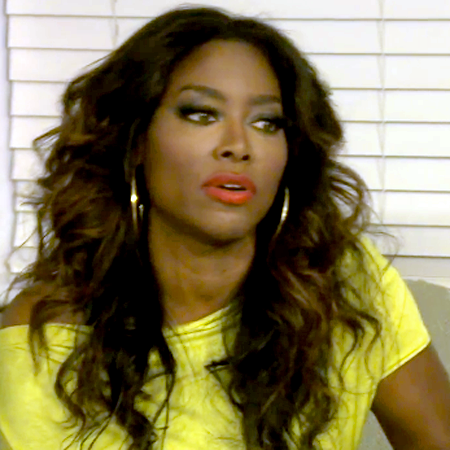 Article continues below advertisement
She said, "I did not have a mother, Cynthia. She never talked to me. She never even owned me."
Then, former Miss USA Kenya told Bravo's cameras, "My mother and I have never spoken my entire life. Whenever she sees me, she just pretends as though I'm not there, as though I'm invisible."
Later, Kenya, who was raised by her grandma, told Porsha that she's had to be tough while being on her own without a mother's love.
Kenya and Porsha (who split from husband Kordell Stewart) both want children, but Kenya confided seeing Cynthia care so much about her daughter Noelle, 13, actually hurt.
"My mother did the complete opposite!" Kenya cried to Porsha. "How she's treating her daughter is the same relationship I would want with my daughter.
"And I don't even want a daughter because I don't want anything that reminds me of me and my mother -- I don't want anything that reminds me of that dysfunctional relationship."
Article continues below advertisement
As RadarOnline.com readers know, Kenya recently told Life & Style that she plans to get pregnant in the next six months via in vitro. And the former beauty queen cryptically said she just doesn't know whose sperm to use!
"I wouldn't mind having a modern family," she told the magazine.
But her declaration on Sunday night's RHOA might make fans wonder if Kenya will try gender selection methods as well to try to get the son she would prefer?
Also on the episode, viewers saw things get heated between NeNe and Cynthia while all the ladies were on their bonding trip in Savannah, Georgia.
Cynthia said her daughter Noelle was dating a young boyfriend named Arthur. After Cynthia said she took the puppy love duo to the movies and dropped them off -- because young girls shouldn't be sheltered -- NeNe showed her contempt for what she termed a permissive attitude.
Article continues below advertisement
"I am not in agreement with Cynthia on it," NeNe bluntly told the other ladies. "I was raised stricter, and 13 is too young to date."
NeNe declared she was not going to "help" her 14-year-old son date.
"You gotta be 'Hell, no!' about some stuff," the RHOA alpha dog shrugged.
Kandi Burruss kindly pointed out that she and Cynthia had daughters, which is different from NeNe, who raises boys.
But NeNe said girls are wild these days and faster the boys -- and she did an impression of young women twerking around the mall.
It wasn't long before mama bear Cynthia had a meltdown.
"I just want my child to be happy; I want to be a good mom!" she said.
Cynthia started to cry while NeNe shook her head.
NeNe said she was free to have her opinion: "I'm not saying you're a bad mom; I just can't do it in my house."
Still, Cynthia had to flee the room in tears.
When Porsha and Kenya went and comforted her, Cynthia said she was never not thinking about what Noelle needed from her.
Article continues below advertisement
"Noelle is my everything," she told the cameras. "I will do anything to make sure she is safe, no matter what."
Later, NeNe went and smoothed things over with Cynthia, and the two wound up laughing again.
"NeNe is my girl, but NeNe is wrong," Cynthia said in a confessional segment.
Also on the episode, Porsha revealed she has a tattoo above her private parts and blabbed, "I had a piercing and I took it out when I was pregnant."
Cynthia didn't know Porsha had once been pregnant, but Kordell's Stewart's ex said that her miscarriage (which has already been publicly revealed) was the last thing she wanted to talk about!
Also on the episode, as RadarOnline.com has previously previewed, NeNe had a heart-to-heart chat with Porsha, who was crying about missing Kordell and her stepson, Syre.
NeNe told her it would take time for those feelings to go away but "they WILL go away."
Article continues below advertisement
NeNe advised Kenya, however, to hit the pause button on her messy divorce from the ex-football player and actually talk to him about her feelings.
"It's going to be so awkward," Porsha said, but the RHOA princess admitted, "At this point, I have to do something."
Later, over a big Southern dinner in the Savannah mansion where they were staying, Porsha told her co-stars that after NeNe told her to call Kordell, she had texted him!
"I think we should chat," she wrote.
When Kordell texted her back to ask what they would be talking about, Porsha didn't know how to respond.
But co-star Kandi made the decision for her, taking Porsha's phone and texting Kordell that Porsha wanted to talk about "Us."
Porsha was shocked and scared and told the others, "Now I'm really freaking out!"
Also on the episode, NeNe decided she would take them all to a drag queen show to have a good time and they hung out with a man dressed as a woman named "Lady Chablis."
Article continues below advertisement
And NeNe ordered Kenya to talk out her differences with Phaedra Parks about the beauty queen's allegedly inappropriate texts to Parks' husband, Apollo Nida.
"I don't want Apollo. I never have," Kenya sniffed to the cameras.
However, Kenya did initiate a pow-wow with Phaedra -- while new mom Phaedra pumped breast milk!
"I'm in a great place," Phaedra said.
"I'm over it," she told her frenemy Kenya about the Apollo feud. "I don't really want to rehash it."
But Kenya sighed in confessional that Phaedra was trying "to shuck and jive" and not deal with the situation.
"Let's move forward," Phaedra told her as she pumped milk for her second son!
At the end of the episode, Kandi told the group that she wanted to put together a musical they could be involved in that would be based on her own experience with her disapproving mother, Mama Joyce. Then, a big cockroach flew in and hit the chandelier and the women screamed. Kenya and Porsha wound up teaming up to kill the insect.
Watch the video on RadarOnline.com
As the bonding trip got personal, NeNe told Porsha she needed to grow up and help the other women instead of always focusing on her own problems: "You want to receive but you don't want to give."
Porsha admitted to Bravo's cameras that she maybe hadn't been the best friend and as the episode ended, she told NeNe she loved her.