Kenya Moore Wants A Baby, Declares: 'I Just Have To Figure Out Whose Sperm To Use!'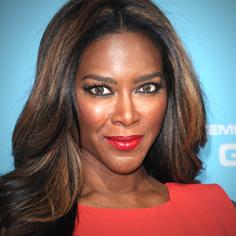 The Real Housewives of Atlanta's Kenya Moore wants to hear the pitter-patter of little feet, and is determined to make things happen, one way or another, in 2014.
"I plan to have a baby next year, within the next six months I hope to be pregnant," she told Life & Style. "I'm going to do in vitro; I just have to figure out whose sperm to use!
"I have some options -- I wouldn't mind having a modern family."
Article continues below advertisement
The former Miss USA waxed poetic about her plans as a nascent parent.
"I want to give my babies the childhood I never had," the 'Gone with the Wind Fabulous' singer said, in reference to her dysfunctional relationship with her mother. "I want to be there for my children I want them to know they aren't invisible.
"More important than finding the man of my dreams is meeting the love of my life, and I know that that person will be my future baby."
The Real Housewives of Atlanta airs Sunday on Bravo at 8/7c.