Kenya Moore Accuses 'RHOA' Co-Star NeNe Leakes Of 'Disgusting' Gay Bashing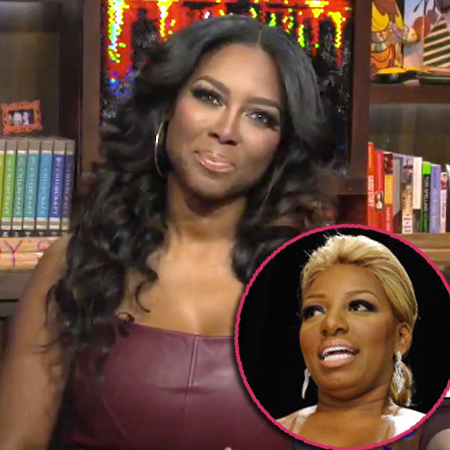 Kenya Moore, appearing on Watch What Happens Live Sunday, threw more gasoline on the fire in her simmering feud with her Real Housewives of Atlanta co-star NeNe Leakes, accusing her of gay bashing.
On Sunday's RHOA episode, NeNe blamed Kenya for the brawl at her pillow talk party that resulted in Moore's assistant, Brandon DeShazer, getting beaten up by Phaedra Parks' husband, Apollo Nida.
But NeNe shocked viewers by saying Brandon jumped up "like a queen" as she also blamed Kenya for inciting the fight.
Article continues below advertisement
People We Love! Hollywood's Most Inspiring Rogues, Renegades & Rule Breakers
And when Kenya appeared on Sunday night's Bravo talk show, she told host Andy Cohen of NeNe's apparent anti-gay slur, "I was really disgusted by that: It was really disgusting to watch someone that's built her entire career off of copying gay men's lingo for her to make such defamatory and humiliating remarks.
"I think it was uncalled for and it's no place to gay bash. We're a show that loves gay people, obviously. And some of my best friends are gay."
She added, "My brother is -- whatever he wants to be is no one's business, and how does it matter what someone's sexuality is whether they got beat up or not? What does that have to do with anything? It was completely uncalled for and I was quite disturbed by those remarks."
No Talent, No Problem: 25 Stars Who Are Famous For Doing Nothing At All
Cohen also asked Kenya about how all the other housewives seemed to be blaming her for the fight because she stood up and rushed at Christopher Williams and his wife, Natalie.
Article continues below advertisement
Kenya replied, "You can't rush someone if you're wearing six-inch heels! I stood up very calmly and began to walk across the room. No one rushed anyone."
But Kenya said she wasn't surprised the other housewives have made her a target.
"I think some of the ladies on the show definitely have it out for me," she said. "I think what you see isn't the entire story."
According to Kenya, NeNe was to blame for her own party going bad -- and implied the other housewife was "on" something!
"She set the tone in the room," she said. "She agitated everyone from the time I walked in. She said some really foul things to me when I arrived. She was out of control.
"She was acting very hyped up on something -- I don't know -- but she was not acting herself," Kenya told Cohen. "It's funny because ... the world is saying that it's NeNe's fault and Apollo's fault but yet none of these ladies can stand up to her and basically call her out for what she's done."
Article continues below advertisement
On Sunday's RHOA, NeNe said Kenya was wearing diapers, and Kenya retorted to Cohen, "Well, at least I can fit in a child's diaper, not an adult diaper, like some of us."
Also on the talk show, where Kenya was joined by comedian Wayne Brady, the former beauty queen explained why she tweeted that Brandi Glanville of The Real Housewives of Beverly Hills was an "a** clown."
Watch the video on RadarOnline.com
"She's an idiot, really. She went after me in a blog because I said how ignorant her comments were when she went after Joyce Giraud about black people not being able to swim so that's why she's an ass clown," Kenya said.
When a fan asked Kenya why we haven't seen her alleged African prince boyfriend, Kenya (whose last boyfriend Walter Jackson appeared on RHOA) she said, "I learned a big lesson from last season about exposing my personal life to the world and I just want to make sure that I keep things under wraps until I know that's the right thing to do and right now I'm really happy about keeping it a secret."
Meanwhile, the reality star who hopes to soon be a mom told Cohen she has the sperm donor situation "covered" -- and fans will have to tune in to see how it all plays out!