Caught On Camera: Kelly Ripa Slams Michael Strahan & ABC Again!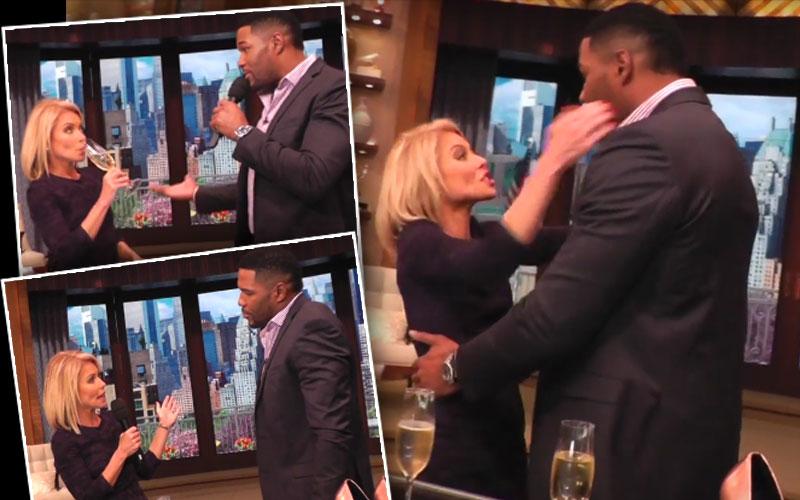 After Michael Strahan's final show ended, the cameras didn't stop rolling! Newly released behind-the-scenes footage shows how Kelly Ripa couldn't help but slam Strahan even in his last moments on set.
After a long hug accompanied by cheers from the audience, Ripa, 45, said, "I really enjoyed every second of it, I loved watching you evolve. I really think you're so terrific and there's nothing you can' t do."
Article continues below advertisement
After several more compliments and sappy statements like, "you could do it all," Ripa suddenly switched gears.
"I just want you to know that this is your home base – you always have a place to come and have Thanksgiving with your dysfunctional family," she said in the clip. "We really are a dysfunctional family ..."
Strahan, who was not fazed by the apparent diss, hugged his now-ex-co-host and thanked her for all of the help and guidance she provided during his time on the show.
"I really have to thank Kelly, you changed my life – you really have," he said.
Ripa interrupted him to agree.
"And to come in here every day and to be new to this format of TV and to learn from somebody who had done it for 12 years before I got here, it was amazing," he said.
However, as RadarOnline.com exclusively reported earlier today, the fond farewell appeared to be all for show.
"There was a team waiting backstage," an insider told RadarOnline.com. "After the show, they started packing everything of Michael's to get it out of the building."