Sports Illustrated Swimsuit Stunners Deliver Dave Letterman's Top Ten List!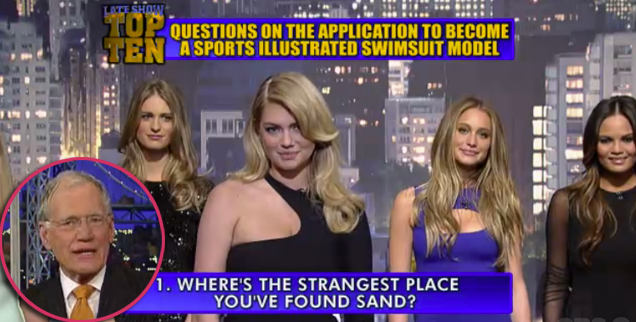 The Sports Illustrated swimsuit models helped David Letterman deliver the Top Ten on Monday's edition of The Late Show, with each model speaking one of the comical lines.
The category was the "Top Ten Questions On The Application To Become A Sports Illustrated Model."
10. Emily Didonato: "How naked do you see yourself in five years?"
9. Nina Agdal: "Have you dated Charlie Sheen?"
8. Ariel Meredith: "Are you willing to kiss a tubby guy for a Super Bowl commercial?"
Article continues below advertisement
7. Chrissy Teigen: "Can you provide your own beach towel?"
6. Hannah Davis: "Will you keep your mouth shut if we lose a couple of girls to shark attacks?"
5. Alyssa Miller: "Please list your three most recent employers' measurements"
4. Julie Henderson: "Have you ever used pose-enhancing drugs?"
3. Genevieve Morton: "Are you willing to visit the elderly at his late night talk show?"
2. Katherine Webb: "How would Brent Musburger describe you?"
1. Kate Upton: "Where's the strangest place you've found sand?"
After Upton delivered the tongue-in-cheek line, Dave handed the beautiful ladies roses, and cut to a shot of Kate's new cover unveiled in The Big Apple.
Fun Fact: Kate, SI's 2011 rookie of the year and 2012 cover girl, has been romantically linked to Detroit Tigers ace Justin Verlander, as they met filming a video game commercial a year ago.