Kandi Burruss' Fiance Todd Tucker Says Mama Joyce's Critical Comments About Him Have Hurt His Daughter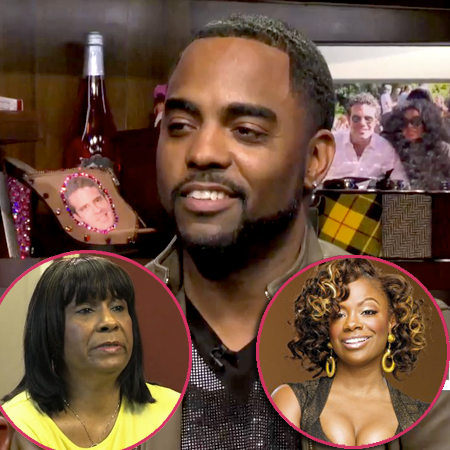 What will Mama Joyce think about this?
Kandi Burruss' said her disapproving mother's criticisms on The Real Housewives of Atlanta have hurt the daughter he had out of wedlock.
On Sunday night's Watch What Happens Live, said although he has a daughter who's now 17, he's "never been married."
And Tucker said about Mama Joyce, who doesn't want Burruss to marry the man she considers an opportunist, "It's very challenging. I have a daughter. My daughter watches the show and to see someone lie about her dad or make things up or talk bad about him, it's really tough on her."
Article continues below advertisement
Mama Joyce accused Tucker of cheating on her daughter with Burruss' assistant, Carmon.
"Supposedly people in the streets were saying me and Carmon were messing around and everybody's trying to figure out who these people are in the streets," Tucker laughed on WWHL. "But there was nothing between me and Carmon. That's Kandi's best friend. She loves Kandi to death. She has a beautiful son and I don't even like that he's subject to hearing this type of stuff."
But on Sunday night's RHOA, more shade was thrown Tucker's way as another woman, Cynthia Bailey and Peter Thomas' friend, Natalie, told the housewives Tucker was a man who knew how to "swerve," and get a better situation for himself with a successful career woman.
According to Natalie, Tucker broke the heart of a friend who had once dated him.
"It was a little tough seeing it," Tucker sighed to Bravo host Andy Cohen of the charges of Natalie, the wife of singer Christopher Williams.
Article continues below advertisement
"I was pretty cool with Christopher and Natalie. Her friend -- I dated her back in high school and we reconnected later on in our mid-20s so we both were in the struggle. She didn't have an executive position or anything ... it was like, where did that come from?"
Meanwhile, as far as his relationship with Burruss goes, "We're taking it day by day," Tucker said.
Tucker was joined on the show by the other RHOA husbands in a rare "all gents" night of Cohen's talk show.
Watch the video on RadarOnline.com
Cynthia Bailey's husband Thomas said of Tucker, "I'm empathetic ... all of us work really hard to be the men that we are. I don't think any of these men are opportunists."
A viewer asked Tucker what he thought of talk show hostess Wendy Williams, who was the first one to publicly diss him as an opportunist who will never marry Burruss.
"It's Wendy's job to judge without knowing the real facts about people," Tucker replied. "In time, she'll see who I really am and she'll know I'm a good dude."
Article continues below advertisement
Meanwhile, Phaedra Parks' husband, Apollo Nida, responded to his alleged sexting buddy Kenya Moore's previous comment on Watch What Happens Live that "if he could have, he would have" with her!
"First and foremost, I love my wife and I would never step outside the boundaries of our marriage but like I said, I could have if I'd wanted to I would have but that's not even my thing. I love my wife and appreciate her for everything she's done," he said.
Although Nida has seemed harsh with Parks on-camera at times, he claimed, "I think sometimes things come off a little different when the cameras are rolling but she knows that I have a good heart. There's a lot of stress in our relationship because things happened so fast.
"She's just graduated school, new book going on, I have things going on. It's a lot to juggle."
Thomas has also been seen being unsympathetic towards wife Bailey. But Sunday he told viewers after the RHOA episode celebrated their third anniversary, "I'm completely in love with her."
Article continues below advertisement
Although he was portrayed as insensitive during Bailey's fibroid surgery, Peter said it wasn't really so.
"That's my queen right there. I don't want nothing to happen to her."
Later, Gregg Leakes commented on wife NeNe Leakes, "The biggest challenge is keeping the wind beneath the wings so that she can fly.
"My wife's very powerful so the thing is to stay out of her way and let her do what she do because she's good at what she do."
When asked if they'd ever met Kenya's alleged wealthy African boyfriend, all of the husbands said NO!
And none of them thought he was real!
"In her mind," Gregg Leakes cracked.
Meanwhile, Thomas told Cohen of Kordell Stewart, who had a messy divorce from RHOA's Porsha, that he keeps up with the former football player because they are partners in Bar One in Charlotte, Georgia.
"I talk to him practically every other day," he said.
Peter contended it was "never" awkward because "I never believed anything she said. I'm rolling with Kordell 100 percent."