Watch: Kandi Burruss' Tears As Todd Tucker Reveals He's Considering Out-Of-Town Job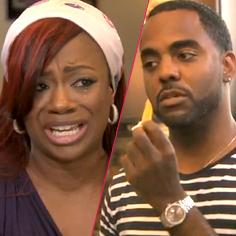 Kandi Burruss and her fiancé Todd Tucker have had their fair share of problems – and their relationship drama continues to play out on Sunday's Real Housewives of Atlanta.
In a sneak peek, Kandi breaks down after Todd discusses a new job opportunity, shooting an international travel television show that would have him globetrotting for several months.
With Todd away from Atlanta, he wouldn't be able to help Kandi with her play, A Mother's Love, but she's not about to let him use that as an excuse to hang back, and then resent her for it.
Article continues below advertisement
"Question. How are you going to help me do this play, if you're leaving to do that?" Kandi asked.
"If you want do the TV show, go ahead and do the TV show," The Kandi Factory star tells her man, as she starts crying.
When Todd shows his surprise at her tears, she explains, "I just feel like lately we've been arguing about the stupidest stuff, and you keep bringing up these other shows and stuff that you want to do out of town, so I just feel like, don't let me be the reason that you're staying."
Kandi tells the Bravo cameras, "I don't want to hold him back, if there are things that he feels that he needs to do, but at the same time, I see so much more for us together."
Opening up to Todd, Kandi candidly adds: "I feel like when you go and work on your other opportunities, to me, you seem much happier, even if it's out of town and away from me."
Watch the Real Housewives of Atlanta preview below: