He's 'Shore' My Man! JWoww Shows Off New Boyfriend On Universal Studios Date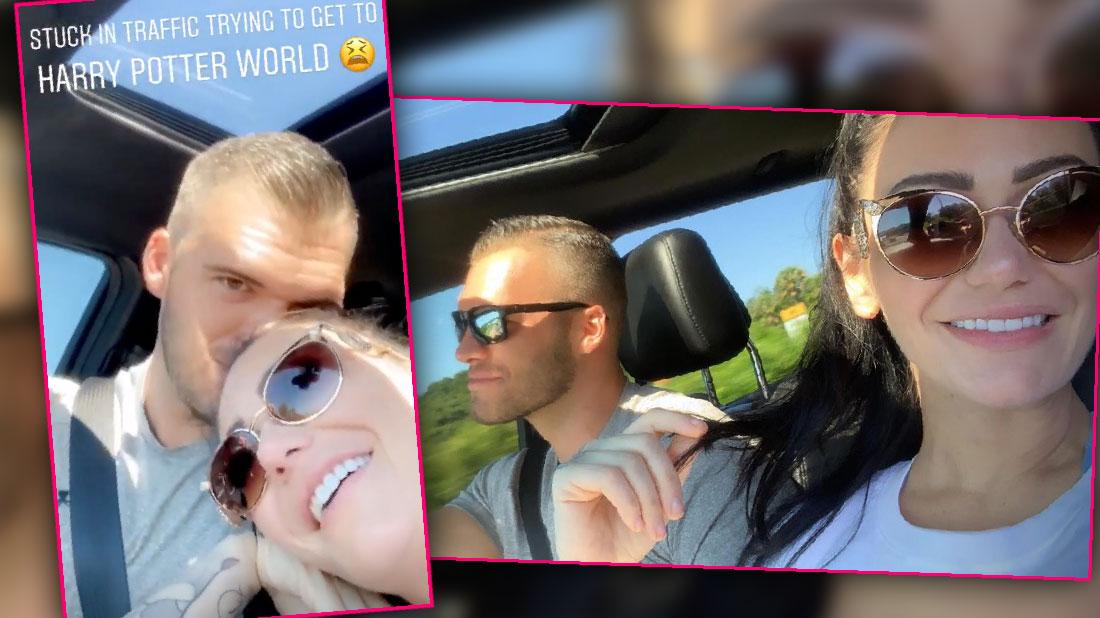 Jenni "JWoww" Farley is showing off her new boytoy beau!
After In Touch identified the Jersey Shore star's lover as wrestler Zack Clayton Carpinello on Friday, April 26, 2019, the two of them headed out on their first public date at Universal Studios Florida the very next day.
On Saturday morning, April 27, JWoww posted photos and video of them on social media while Zack was driving her to the amusement park.
Article continues below advertisement
The two were listening to the song "Rapper's Delight" and JWoww, 33, captioned, "Stuck in traffic trying to get to Harry Potter world," while sitting next to Zack, 24.
They laughed in the vehicle and appeared to be having a great time together.
Radar recently revealed that JWoww has a hot new man as she's divorcing husband and baby daddy Roger Mathews.
On Wednesday, April 24, the Jersey Shore star spilled the news of her secret boyfriend during the live podcast of "It's Happening with Snooki & Joey."
When asked her man's name, JWoww told the audience at Count Basie Center for the Arts in Red Bank, "24. 24 is 24. We're filming Jersey Shore right now and we nicknamed him '24'."
As RadarOnline.com readers know, JWoww had a nasty split from Roger in 2018. She kicked her baby daddy out of the home they shared together and even got him arrested after a nasty feud over their romance and their two children, daughter Meilani, 4, and son Greyson, 2.
Article continues below advertisement
"I wish it was over but it's not, so I decided to move on and I moved on with a 24-year-old," she shrugged.
Although Roger, 43, wants to save their relationship and keep their family together — despite his wife's abuse claims against him – JWoww now looks thrilled to be with young Zack!
He's a friend of JWoww's younger brother, and works as a personal trainer and professional wrestler.
Social media showed that Roger appeared to be caring for his kids with JWoww as she whooped it up with Zack on Saturday.
Roger has taken the high road about the new romance, telling Us Weekly, "Jenni's been dating him for a few months now….He seems like a terrific guy and they seem to really be happy, and I'm very happy for them. Co-parenting has been getting much easier and we have a very friendly relationship and do things as a family together which makes the kids very happy. Wish her nothing but positive things."
Co-star Snooki has raved about JWoww's new beau, "Jenni has been going through some sh*t, but I've never seen this girl more happier and more herself than this moment right now."