Killers Plot To Castrate & Murder Justin Bieber In Chilling Phone Call – Hear The Tape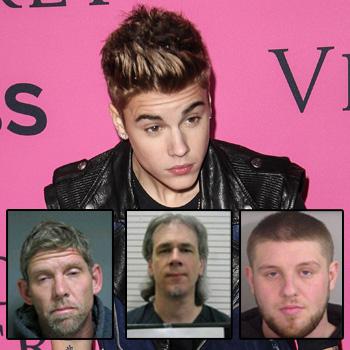 The reality of just how close Justin Bieber came to a gruesome death in New York City last November has been revealed with the release of a chilling phone call between his potential killers, and RadarOnline.com has the sordid details.
The mastermind of the murder plot was inmate Dana Martin – who is currently serving a 978-year sentence for the 2000 rape and murder of a 15-year-old girl – and the damning audio recording was between him and former jailhouse friend, Mark Staake, who was set to carry out the plan to take down the Baby singer with his nephew, Tanner Ruane.
Article continues below advertisement
As RadarOnline.com previously reported, master manipulator Martin has an image of Bieber tattooed on his leg and decided to target him after repeated attempts to contact the Canadian pop star were ignored.
"Did he go over the Bieber thing with you?" the convict can be heard asking Ruane, reported KOAT News.
"Nah. The way I like to work dude, I like to know as little as possible," Ruane replied. "He's gonna use one of the things you gave him, and then he's gonna take care of it."
As authorities at the Southern New Mexico Correctional Facility where the call was made confirmed, "to take care of" someone means to kill them, and the deadly duo intended to do that by strangling Bieber with his signature paisley scarf.
"Tie it really tight, and that cuts off all the oxygen, and then tie it in the back again, really tight. That seals the deal," Martin advised.
Not only did they want to wipe out the teen sensation, but the murderous pair also planned to castrate Justin and his bodyguard in the most brutal manner.
MORE ON:
Celebrity Justice
Article continues below advertisement
"We went and bought the hedge clippers," Ruane tells his mentor. "You're gonna give me 5 large ($5,000) for each one I get." The affidavit said there was a bounty of $2,500 on each testicle.
Fortunately for the millions of fans with Bieber Fever, bumbling criminals Ruane and Staake got lost while driving in Vermont on November 19 and were stopped by a U.S. border agent at the Highgate Springs border crossing into Canada, where Staake was arrested on the spot due to his outstanding warrants in New Mexico.
Ruane was arrested on November 26, and Bieber's sold out Believe tour dates at New York's Madison Square Garden (where he was scheduled to die) went off without a hitch.
radar_embed service=youtube src="https://www.youtube.com/embed/TAZ_8r_dNHw" width="560" height="315"