Enemy Of The State! Justin Bieber Enrages Argentinian Fans By Mistreating The Nation's Flag Mid-Concert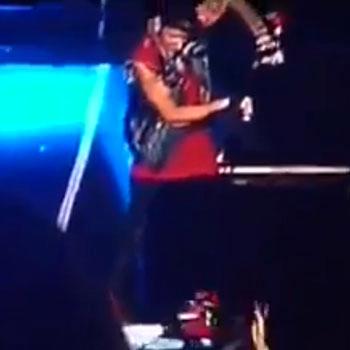 Is Justin Bieber trying to lose fans? Even as his recent singles continue to bomb in the wake of his recent bad behavior, the singer stirred up controversy yet again at a concert in Buenos Aires on Saturday night when he disrespected two Argentinian flags that fans had thrown on stage.
Instead of using them for a spontaneous shout-out to his host country, Bieber kicked and stepped on the banners before sweeping them off the stage with a microphone stand. Watch the video here:
Article continues below advertisement
youtube=https://www.youtube.com/watch?v=XEW37Vn32M8&w=560&h=315
In Argentina, disrespecting the nation's flag is a crime punishable by up to four years in prison. And while Bieber made it out of the country alive, heading on to a concert in Chile, his fans are playing judge and jury online.
Comments on the Youtube video of the incident were largely outraged.
"Do not return to South America! You are not welcome here!" Cristiano Falk wrote. "…You are an ignorant, spoiled … cultural tragedy!!"
Jose Carlo Bravo chimed in, "Que hijo de $"%$ what a son of a b***h. He didn't understand how the latinos love our countries. To see somebody cleaning the floor with your flag is like seeing your mother f*****g with the mailman."
"Justin if you step again in my country," user C Pom wrote. "we are all going to kick your a**! You are a … shame to music. To all. A total LACK of respect. Believe me, you are not welcome here …"
Do you think that fans are making a big deal out of a small misunderstanding, or is this just the latest example of Bieber's out-of-control behavior? Let us know in the comments!