Packing Heat! Housewife Joyce Giraud Takes To Gun Range After Encounter With Masked Robbers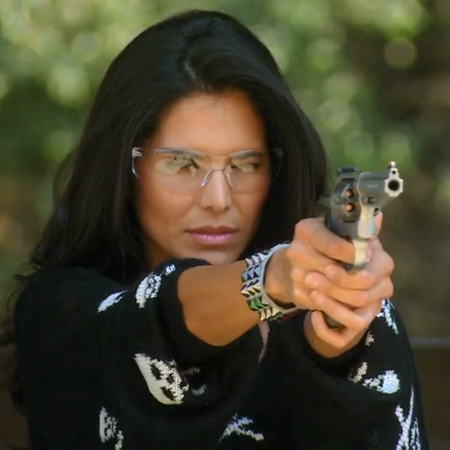 Joyce Giraud is packing heat!
In a sneak preview of Monday's episode, The Real Housewives of Beverly Hills star and her husband Michael Ohoven take to the gun range after two masked robbers tried to attack them at home.
Explaining the "incident" to the instructor, Joyce revealed: "On a Sunday night, we had two guys walking up our driveway coming straight to us with two shotguns."
The intruders never got into their home though, thanks to their boxer pup, "who is trained to attack," the former Miss Puerto Rico further explained.
Article continues below advertisement
"The boxer saved us," Michael added.
"After that experience, I bought machetes, pepper spray, and I have bats behind every curtain. I'm going to be ready," she told the Bravo cameras.
Next, Joyce explained that she fired a gun once - for a movie.
"We don't count fake stuff," the unimpressed gun range instructor said.
Trying to show off her acting skills, she accidentally pointed the gun in his direction, much to his concern.
Joyce laughed nervously as the instructor tells her to focus and stop worrying about her hair.
See how Joyce fairs at the gun range in the clip, below.