Josh Brolin Explains His Drunken Arrest: 'New Year's... That's What Happened!'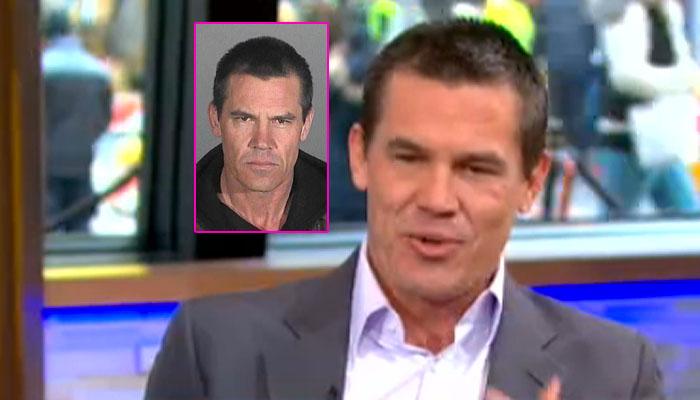 Actor Josh Brolin has a simple -- and seemingly unapologetic -- explanation for his recent drunken arrest, saying: "New Year's, that's what happened!"
Brolin -- appearing Wednesday on ABC's Good Morning America -- inferred he was targeted by cops, saying: "I'm the one guy who's out there and they go, 'Hey that's Josh. Let's grab him.'"
As RadarOnline.com has previously reported, Brolin, 44, was taken into custody minutes before New Year's Day for public intoxication in Santa Monica, California. Brolin -- who was booked and had his mug shot taken -- paid the $250 bail and was not given a citation for the arrest, so there will be no further legal ramifications.
Article continues below advertisement
Brolin tells GMA the incident was blown way out of proportion.
"It was New Year's. It was a pretty innocent thing. It was a fun thing," he said. "The most awful thing about it is you see this shot of me, they don't show you the other shot when I turn and I have a huge smile on my face."
Brolin noted the irony of his arrest coming the same month as the release of his gritty new 1940's mob drama Gangster Squad, in which he plays a vigilante cop.
"They were very sweet to me, actually," Brolin said of the cops who placed him under arrest.
Brolin also revealed the true-to-life connection between both his arrest and his new movie in how he, the son of actor James Brolin, became an actor.
"I wanted to be a lawyer and then I realized it was the same thing," he said. "I started getting into criminal law and what is it working with juries and this and convincing people of that and it is, it's acting. So I've hybrided everything and I'm doing exactly what I want to do.
Article continues below advertisement
"The odds were worse," he said of acting, "but I wanted to go with this one."
Watch the video on RadarOnline.com
This is not Brolin's first brush with the law -- he was arrested for a drunken brawl in a Shreveport, Louisiana bar in July 2008, and in December 2004, just four months after he married actress Diane Lane, Brolin was arrested on a misdemeanor domestic battery charge when Lane called 911 during a fight that got physical. She did not press charges and called the episode a "misunderstanding."
Meanwhile, Gangster Squad -- rated "R" for extreme violence -- hits theaters in the U.S. on Friday, January 11.
|
|