He's Got Battle Scars! Jon Gosselin Has Flashbacks To Kate's 'Militant' Mentality, Says He's 'Haunted By It Every Day'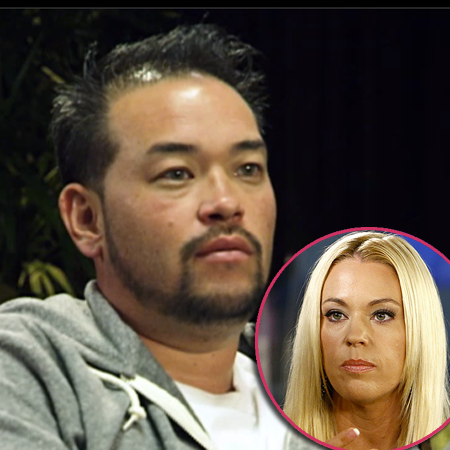 Article continues below advertisement
And they plunged right into the drama, with Gosselin pulling no punches and letting expletives fly about his ex-wife Kate, mother to his eight kids.
He told VH1's cameras, "People have said that Kate emasculated me: Yes; that was a f***ing militant f***ing household."
And he gave his version of the Gosselin split, saying it was Kate who decided in 2008 to leave their marriage and continue filming their TLC show with the kids, which he found morally repugnant.
"Since I've been divorced, my relationship with my ex-wife has been -- and is still now -- very tumultuous. I know that feeling of emptiness and loneliness. It's a really crappy lonely feeling -- until now."
That was the cue for Couples Therapy to introduce Gosselin's girlfriend Janetta.
"When I first met Liz, the thing that drew me to her was how honest she was. Her smile brightens up a room," he said.
Article continues below advertisement
And Janetta said Jon is "a super genuine person."
But she admitted things were tough with Gosselin being the father of eight kids and her raising three young children of her own.
The rest of the group was amused to have Gosselin in their midst, and he told them Kate was suing him over allegedly helping an author write a tell-all book about her. (Kate has since dropped the lawsuit)
Janetta told the other celebs, "I'm going to get run into the ground," during therapy. "Poor Johnny. I come off so mean all the time."
Gosselin said, "I don't think it's mean. I think it's blatantly honest."
She admitted to the cameras, "I'm more the tough guy in the relationship."
But Gosselin said about comparing Janetta and Kate, "It's like apples and oranges."
The TV dad complained to Janetta about Kate that "she doesn't like anyone who comes into my life.
"I feel judged all the time, even if I do something good."
But is it out of the frying pan and into the fire for Jon? Janetta suddenly told him, "Stop playing the victim face," and an upset Gosselin left the room!
Article continues below advertisement
Later, during a therapy session with Dr. Jenn Berman, the pair recalled how they met in a parking lot, wound up going to the same bar, then proceeded to Janetta's home -- where Gosselin only requested a hug and then slept on her couch!
But Janetta kept harping on his TV persona and said, "You play the victim very easily."
Dr. Berman said she diminished his feelings and added, "If you want a loving relationship, you have to have compassion."
Janetta admitted Gosselin's reality show fame has gotten in the way of their relationship.
And Jon concurred that his past is a problem.
"My ex-wife and my divorce and my marriage still. I'm still haunted by that every day," he told Dr. Jenn.
Gosselin cited Kate suing him, and added, "Every year it's something dredged up by my ex-wife."
But surprisingly, he said, "I want to get married, really bad.
"I believe in the sanctity of marriage. I believe in committing to each other. I want the house, I want the white picket fence. I want the blended family. I want the stability."
Article continues below advertisement
Janetta sighed to Dr. Berman that she didn't know if it was going to be her: "He's so needy for that.
"The feeling that someone's always going to be there, and if it's not going to be me, it's always going to be somebody else."
Indeed, it could be somebody else! As RadarOnline.com readers know, sources said Gosselin "shopped around" for a girlfriend to appear with him on Couples Therapy, and hoped previous love Hailey Glassman might do so. But, RadarOnline.com sources said, after Glassman turned him down flat, he wound up with Janetta.
However, Gosselin told the VH1 cameras on Thursday's episode, "I do think Liz and I will get married. This is like the make it or break it."
Watch the video on RadarOnline.com:
Meanwhile, Couples Therapy also showed Armstrong and fiance John Bluher in the aftermath of the RHOBH star's drunken meltdown last week after she felt the TV house wasn't up to their lofty standards.
"I need to vent to someone," Armstrong raged to Dr. Berman. "I can't live like this. I have pea green towels!"
Article continues below advertisement
She wanted to be treated at her own home but Dr. Berman was having none of it!
In group therapy the next day, Dr. Berman said in 20-plus years "never in my life, have I seen such an entitled tantrum."
Dr. Berman said it was a smokescreen, leading him to wonder: What was it really about?
"I already have had reality TV kill one person in my life," Armstrong cried about her former husband Russell, who killed himself. Armstrong said she worried about Bluher also spinning out of control in front of the TV cameras.
Article continues below advertisement
Dr. Berman told the former Teen Mom that Armstrong wasn't attacking her.
"There are times when you are in your Farrah bubble," Dr. Berman pointed out.
"You don't even realize you're pushing people away."
But Abraham continued to deny her porn star status, as she told fellow housemates, The Real L Word stars Sara Bettencour and Whitney Mixter, "I'm not in that industry."
Farrah stuck to her story that Backdoor Teen Mom was a personal sex tape that had been leaked--not a real porn film she made for the money.
Bettencourt scoffed behind her back, "She wants to be Kim Kardashian, but she's not."
Later, she and Mixter, convinced Abraham was lying about the sex tape, viewed it on the internet.
Upon watching the porn movie, a shocked Mixter, said, "What is that, whoa!'
"She likes to get it in the back door," she whispered to her wife, Bettencourt.