Who's Faking Now? Jon Gosselin, Who Shopped Around For TV Girlfriend, Attacks 'Couples Therapy' Show For Setting Him Up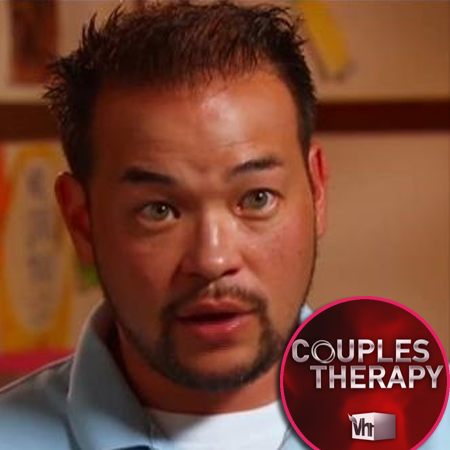 Who's faking?
Incredibly, Jon Gosselin, who as RadarOnline.com has reported, shopped around for a girlfriend to do TV's Couples Therapy with him, slammed the show as fake on Thursday night's episode.
The former Jon & Kate Plus 8 star implied on camera that producers were criticizing him and girlfriend Liz Jannetta to create drama -- and he threatened to quit.
But as RadarOnline.com readers know, Liz was desperate Jon's own second choice to appear on the show! Jon only convinced her to do Couples Therapy with him after his ex-galpal Hailey Glassman turned him down, sources said.
Article continues below advertisement
On Thursday's show, however, viewers saw Jon have a meltdown after show therapist Dr. Jenn Berman arranged for the couples to have their compatibility tested by reps from the dating web site, Plenty of Fish.
Jon and Liz were judged to be "incompatible and unlikely to form a successful relationship."
The reality dad, who has eight kids, and Liz, also a mom, were told their orientation towards family was low and they wanted to cut loose. The only other thing they had in common, the dating experts said, was that they were both drinkers and occasional smokers. None of these things would make them a solid couple.
Outraged Liz said, "F*** this s***!" to the cameras, while Jon had similar emotions.
"I'm like, 'Who the f*** are you?'" Jon said in confessional. "I don't need a computer to tell me what I know about Liz. I'm pretty upset about the Plenty of Fish results because I don't think it has anything to do with us.
Scorned Exes Tell All: Inside Hollywood's Ugliest Splits
"So I started thinking about my old show, my old life and I feel like the conspiracy theory is, you're trying to break us up."
Article continues below advertisement
Liz agreed with Jon that it looked like a setup!
"It's never any different -- every TV show I've been on," Jon told her. "That's why I quit TV."
Waiting At The Altar — 38 Hollywood Weddings That Were Called Off
And he told the VH1 cameras, "I've done a TV show before and it made me feel trapped and I'm starting to feel those emotions again.
"We're done. Quit the f***ing show, quit the bulls***. I'm going to call my manager, 'Hey, I'm out of here.'"
But Dr. Berman quickly intervened to hear Jon out and he told her, "I'm p*ssed off. I think you're endorsing something I don't want to be a part of. I know how networks work; I've been there.
Faked Scenes, Lies & Payoffs – The Ultimate Guide To Reality TV Shows
"I feel like I'm falling down the f***ing TLC road again," said the reality star, who got divorced from wife Kate Gosselin after they'd exposed their home life on TV.
Article continues below advertisement
"I feel like it's a setup," he said, implying the show was using him and Liz for drama.
But Dr. Berman said she would go ballistic if Couples Therapy was fake! "Nobody is set up to do anything. I give my heart, my soul ... to the work that we do here so for you to imply in any way that something here is not real, that's not cool."
The Hottest Stars From Reality TV
Jon felt better after talking to the psychologist and admitted he overreacted.
"I would never allow something happen to the couples that was fake or detrimental," Dr. Berman stressed again.
Later, however, Jon had more problems in the Couples Therapy house when co-star Taylor Armstrong dissected his relationship with Liz: "I don't like the way she treats you. When she calls you a p***y I can't even look you in the face when I think about it. It's so unfair to you."
And Sada Bettencourt chimed in, "She's running the show and she makes you feel like s*** every time. I have listened to these conversations when you are being belittled. That's when you say, 'Listen, b*tch!' "
Article continues below advertisement
Jon went to the bedroom and told Liz the others were attacking their relationship and saying "that I should demand respect from you."
Liz went out to confront the co-stars and Taylor told her bluntly, ""I see you and this demeaning thing you do to him. Jon, you don't deserve that!"
Liz said, "You don't know me!"
Sada said "You should be the first to say, I'm going to do my best to treat you better. You have a major negative response to him."
Defensive Liz raged to the cameras, "People are horrendous, everybody in the house. I f***ing hate them."
Cheating, Gay Lovers, Incest, Drugs & Lip Synching! 50 Of Hollywood's Juiciest Confessions
Meanwhile, also on the Thursday episode, Farrah Abraham, who had filled out a Plenty of Fish dating profile, looked at pictures of potential dates online.
"I'm not trying to rush anything. I just don't to waste my time going on a lot of dates," Farrah explained.
Article continues below advertisement
"I'm going to remain strong in what I want to find so my eye is on the prize," she told the cameras.
They Make How Much?! The 23 Highest-Paid Reality TV Stars
Later, she told her co-stars in the house she'd received some online dating messages.
"The guys were like, she's cute but I don't want to be on TV. Wasn't cute enough, I guess!" Farrah laughed.
"I'm just like, whatever. If you're not going to be okay with TV, then f*** it! You're not ever going to be in my life."
Watch the video on RadarOnline.com:
And during a preview clip for next Thursday's Couples Therapy, Dr. Berman confronts Farrah's mom Debra Danielson about the past.
"You hit your daughter. It's documented," the therapist says.
"You weren't there. You didn't see all of it," Debra responds.
"Why the physicalness?" Farrah asks her mom in therapy.
Debra says, "Why didn't you just be quiet when I asked you to? You have hit ME."
Farrah is shown admitting to Debra, "I have hit you."