Ready For Your Close-Up? Jodi Arias Primps For Mug Shot In Just-Released Video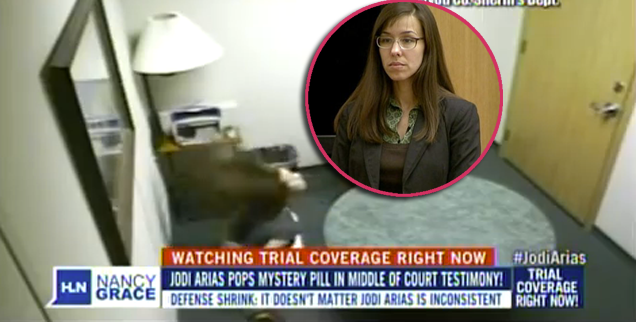 A bizarre video, just-released, shows murder suspect Jodi Arias primping her hair -- with her hands cuffed behind her back -- in a police interrogation room prior to her mug shot being taken.
The video -- culled from police surveillance tapes taken June 15, 2008 -- shows Arias wearing a dark shirt and light-colored pants while sitting on the floor, rubbing her eyes and whipping her head back to make sure her hair isn't cascading over her eyes (she did not have her trademark bangs at the time the clip was shot).
Article continues below advertisement
While Arias has admitted stabbing her on/off again lover Travis Alexander 29 times, slitting his throat and shooting him in the face in his Mesa, Arizona apartment on June 4, 2008, she claims it was in self-defense.
She's pleaded not guilty to first degree murder. If found guilty, she could receive the death penalty.
Stay with RadarOnline.com for up-to-the-minute details on the Jodi Arias trial.