Graphic Testimony Dominates The Jodi Arias Murder Trial As Psychologist Returns To The Stand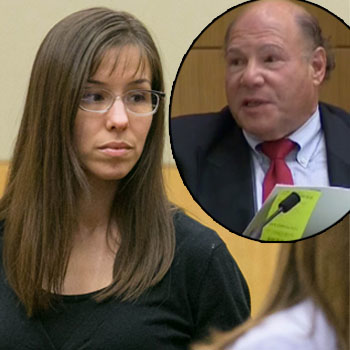 Testimony in the explosive Jodi Arias murder trial was typically X-rated Tuesday as the defense team's expert psychologist and sex therapist went head-to-head yet again with the prosecution during cross examination.
It was the Dr. Richard Samuels and Juan Martinez show yet again as the pair became embroiled in another heated legal standoff in the Maricopa County Courtroom, debating both Arias' state of mind at the time of the alleged murder and her version of events leading up to the killing of ex-boyfriend, Travis Alexander on June 4, 2008.
Article continues below advertisement
Refusing to back down from the bulldog attorney, Samuels told Martinez: "You're misinterpreting the results. You have no knowledge in this area," following rigorous questioning over the Dr.'s claims that Arias' ability to recall facts was caused by a form of post traumatic stress disorder and not a case of "selective memory" as the prosecution charge.
Martinez later suggested that his adversary - who earns $250 an hour for giving his medical opinion at trials – is overpaid if he makes so many errors -- Arizona Republic journalist, Michael Kiefer, reported from inside the courtroom.
MORE ON:
Celebrity Justice
Samuels went on to claim that Alexander's alleged physical assault of Arias, who maintains she shot the motivational speaker in the head, stabbed him 29 times and slit his throat from ear to ear in self defense — would of been trauma enough to cause amnesia — but that her subsequent "self defense" killing of Alexander would have further impacted the issue.
Throughout the back-and-forth questioning, Arias sat quietly often looking bored by proceedings now that her own time in spotlight is over, while at other times she took notes and tried to become engaged in the ongoing discussion, which ultimately could be a deciding factor in whether she herself lives or dies.
The trial continues Friday, stay with RadarOnline.com for regular updates and daily live-streaming.