Domestic Violence Expert Describes The 'Abuse, Battery and Terrorism' That Jodi Arias Endured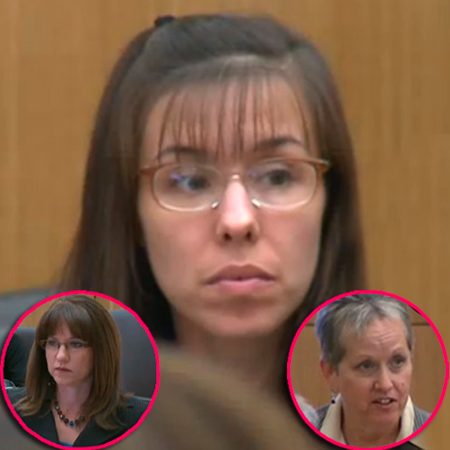 Anger management and domestic violence counselor Alyce LaViolette returned to the stand on the 38th day of the marathon Jodi Arias murder trial, and attempted to explain to the jury what could have made the 32-year-old femme fatale flip.
The defense witness described the "continuum of aggression" and vicious circle of "abuse, battery and terrorism," that Jodi was enduring, allegedly at the hands of former boyfriend and eventual victim, Travis Alexander, whom she said may not have realized his alleged tirades were abusive because they weren't violent in nature.
Article continues below advertisement
LaViolette went on to explain that often times abusers are adult victims of abuse themselves, and that jealously can be a very controlling behavior.
"Sometimes the abuse happens once but is so severe and shocking that the victim lives knowing it could happen again," said LaViolette, according to Arizona Republic reporter Michael Kiefer from inside the Maricopa County Courtroom.
When asked by defense attorney Jennifer Willmott if Jodi may have "acted out" aggressively, she replied: "The other way to look at it is vicarious trauma. If I am in a relationship with someone who is doing things to other people that are violent, it affects how I feel about my own safety," said the domestic abuse expert.
"You see more controlling kinds of behaviors that might be calling during the day or texting to see where you are. You tend to see a change in name calling, to slide into the character assassination – calling the person names, tearing their character apart.
"Here is also generally sexual abuse that does not have to be forceful but it has to be coercive psychologically in some way, in other words the person feels like they should participate in it," such as the kinky sex games that Jodi and Travis partook in she said.
Article continues below advertisement
"Sexual humiliation is a way of lowering someone's self esteem by making them do things they go along with but don't like. They blame themselves," she explained.
Taking into consideration Travis' troubled upbringing that included family members suffering drug problems and the premature death of his parents, LaViolette told the court: "A lot of people who bully people came from violent families."
What began as an explosive and bombshell trial has certainly been slowed down recently during the endless hours of expert testimony that included psychologist Dr. Richard Samuels spending repeated days testifying.
Kiefer reported on Tuesday that at least one juror appeared to have fallen asleep, while Jodi herself appeared bored and keen to get herself back into the spotlight again.