Dirty Texts, Choking, Womanizing! Jodi Arias Defense Team Attack Victim Travis Alexander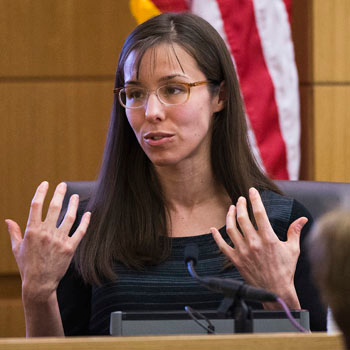 The claws were out in the Jodi Arias murder trial Thursday with lawyers on both sides openly attacking each other in the Maricopa County Courtroom.
The drama kicked off with a request from the defense team to have the jury sequestered because, they claimed, it would be a "fairy tale" to believe that jurors wouldn't see any news reports on the bombshell trial.
"This case must be tried in the courtroom, not in the media," defense attorney Kirk Nurmi told Judge Sherry Stephens.
Article continues below advertisement
"It is a fairytale to assume that this jury is not hearing any of this. It is all over the news, be it local or national," he argued, adding: "It is a fiction that is beyond belief."
However, the judge disagreed, and once she had rejected the defense's motion, it was back to the controversial testimony of domestic violence expert Alyce LaViolette as she relayed graphic details of Jodi and Travis Alexander's volatile relationship before it escalated to breaking point on June 4, 2008 - including an occasion when Alexander allegedly choked Arias during an argument over her seeing other men.
Another woman in the couple's bizarre love triangle was named as the defense revealed details about the Mormon elder's relationship with Lisa Andrews, whom he was dating from July 2007 to March 2008, according to Arias' attorney Jennifer Willmott.
"Bitter feelings for you are brewing in me," Travis allegedly told Jodi, threatening revenge after she deliberately left a photo at his Mesa, Arizona house, reported Michael Kiefer of the Arizona Republic.
Article continues below advertisement
While continuing to claim to the outside world that he was a virgin, Travis allegedly compared Jodi to other women that he had slept with – telling her she was the best and the two others were "OK," LaViolette claimed.
A surprise guest joined the gallery for the afternoon session when ousted Juror 5 sat in attendance defiantly watching the proceedings as a spectator - forcing the judge to warn everyone not to approach the blonde woman with two-tone hair.
The axed juror arrived just in time for an afternoon of damning testimony against Alexander that included his alleged habit of targeting young, vulnerable women with whom he could push sexual boundaries and an alleged barrage of abusive text messages and e-mails in which he called Jodi "a three-hole wonder," "a stalker" and compared the pain she caused him to the death of his father.
After bitter sparring between prosecuting attorney Juan Martinez and LaViolette - including her sarcastically asking: "Are you angry with me?" which led the court to explode into laughter - the trial rested until Monday and mystery Juror 5 was escorted out by court security.
Stay tuned with RadarOnline.com for all the latest developments and live streaming of the Jodi Arias muder trial.