Jodi Arias' Jail Routine Exposed By Nancy Grace Behind Bars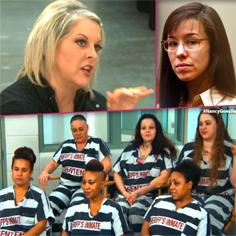 Jodi Arias is sitting in jail as a convicted murderer so spitfire television host Nancy Grace went Behind Bars in a new special where she spoke with the women imprisoned with her and found out exactly how the live locked up.
"I get up thanking the Lord for another day," one inmate tells the HLN host about her day in jail in part one of the probing two-part series that will air Thursday at 8 ET sharp.
Article continues below advertisement
"We get up for medications, for breakfast then we have free time," one woman says.
"My day is immersed in enjoying the company of women that I never thought I would be interested or intrigued by," another woman tells Nancy.
One question that Nancy had for the women was about having to go to the bathroom in front of other people, but these ladies said they're used to that.
"I'm so comfortable now it does not even faze me," an inmate told her.
Jodi is also Tweeting behind bars, slamming Nancy and prosecutor Juan Martinez, but these women say that they aren't watching HLN.
"We watch the Food Channel, all the food you can't eat."
While some women play cards and read the Bible, their days aren't filled with new activities.
"We wake up every day and do the same thing over. It's the same thing every day. Every day, for months at a time."
Check out Nancy getting the down and dirty details of life in the Estrella Jail and watch part two of Behind Bars Thursday on HLN at 8pm ET sharp!