Travis Alexander's Brother & Sister Sob As They Beg For Jodi Arias To Be Given Death Penalty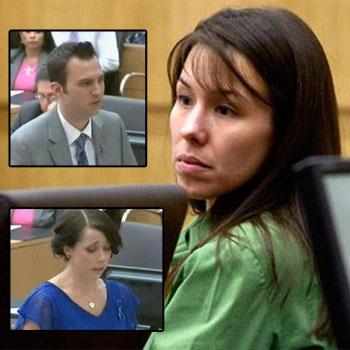 Travis Alexander's family finally had their day in court on Thursday as they made emotional pleas to the jury to sentence Jodi Arias to death in the brutal murder of their brother.
Jodi was found guilty of first-degree murder and "extreme cruelty" in the vicious slaying, and Travis' brother and sister gave tearful statements about how much their sibling meant to them and how their lives have been torn apart since his death on June 4, 2008 during the sentencing phase of the trial.
Article continues below advertisement
Standing tall in front of the jury, Stephen Alexander went first and told the jury about the horrific impact Jodi's murder of his brother has had on him personally.
"I have nightmares about someone coming after me with a knife," Stephen said choking back tears in video obtained by .
"I don't want these nightmares anymore. I don't want to have to see my brother's murderer anymore. I don't want to hear his name dragged through the mud."
Jodi was also emotional, crying as Travis' siblings recalled their brother and how much his death impacted their family.
Her attorneys Kirk Nurmi and Jennifer Willmott tried to withdraw from the case after her guilty verdict came through but a judge denied their motion this week.
through her statement, Samantha Alexander described the hardship of Travis' death and the trial they have endured.
Article continues below advertisement
"We have been at this trial every day since it started," she said.
"We have heard every detail about the crime and the injuries Travis suffered. I am a police officer, and some of these photos are more gruesome than what I've seen in 11 years of law enforcement."
VIDEO: Jodi Arias Testifies Before Congress, 'SNL'-Style
She continued, "Our family has bore the burden of extreme financial hardship and loss to be sure that Travis's life was not forgotten, not lost in vain.
"To have Travis taken so barbarically is beyond any words we can find to describe our horrific loss."
Court ended Thursday afternoon and the penalty phase will continue on Monday, May 20 when Jodi's defense team will present two witnesses who will argue that she should not be given the death penalty.