Rolling In The Jokes: Joan Rivers Mocks Adele's Weight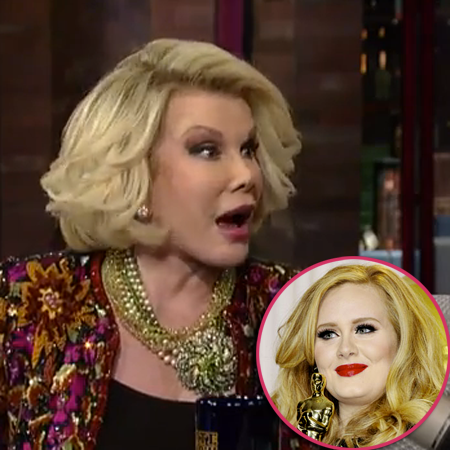 Joan Rivers cracked a few fat jokes at Adele's expense on The Late Show with David Letterman Tuesday, and we've got the clip for you right here on RadarOnline.com.
Letterman asked the legendary comic -- who turns 80 on June 8 -- about her experience at Sunday's Academy Awards, which she described as "a lot of new faces on a lot of old bodies."
The raspy-voiced Rivers said she met singer Adele, 24, for the first time at the Oscars, then held out her arms to simulate the English singer's girth.
Article continues below advertisement
"What is her song? Rolling in the deep?" Joan asked. "She should add fried chicken!"
Joan then joked she overheard Adele complaining, "My throat, my throat, I don't know if I can swallow!"
"I said, 'Oh, yeah -- you can swallow!'" Joan quipped.
Watch the video on RadarOnline.com
It's not the first time Joan has razzed the singer about her weight: After Adele gave birth last fall, Joan tweeted, "Congratulations to Adele on the birth of her 68 pound 8 ounces bouncing baby boy."