Joan Rivers Defends Kelly Osbourne Against Lady Gaga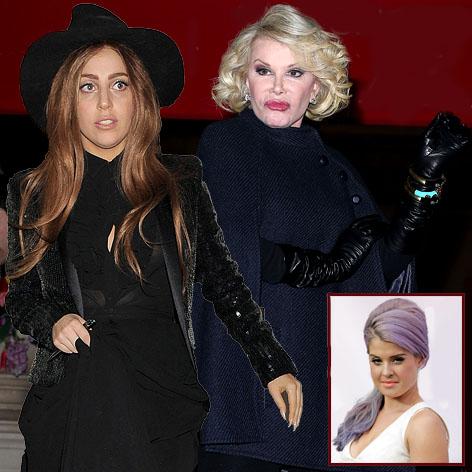 Joan Rivers isn't about to let her Fashion Police costar Kelly Osbourne get pushed around by Lady Gaga.
"Fashion Police is a comedy show. Anyone that comes out of an egg should figure that out," Rivers told Entertainment Tonight.
The slap at the Born This Way singer was a response to her Little Monsters tweeting vicious remarks to Osbourne after she spoke about the singer's weight gain, and an open letter from Gaga herself.
Article continues below advertisement
As RadarOnline.com reported, Kelly commented on Brit TV, "I think she Gaga is pregnant because she has been covering up this part of her body recently and I have been noticing that a lot."
That sent Gaga's fans on a rampage, and motivated Gaga to send Sharon Osbourne's daughter an open letter telling her, "Your show breeds negativity...It glorifies you and Joan Rivers pointing in the camera, laughing, and making jokes about artists and celebrities as if we are zoo animals."
Rivers' response was simple. "Lighten up!" she told Gaga.
RELATED STORIES: