Jennifer Aniston Says Stripping Is Hard: Used '3 Bras & 3 Thongs' To Cover Up But It Didn't Work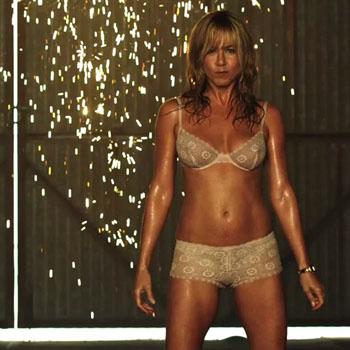 Jennifer Aniston stripped down to almost nothing in her new movie and RadarOnline.com has the video where she reveals that she tried to cover up with three thongs and three bras but even that didn't hide her naked body.
The We're the Millers star appeared on The Talk on Wednesday wearing a sleeveless black and white mini dress, her huge engagement ring and had her famous tresses pulled back into a pony tail.
Article continues below advertisement
She spoke about playing a stripper in the movie, saying that she took extra precautions to make sure nothing was showing, but her efforts were futile.
"I layered my underwear," the 44-year-old actress admitted.
"I wore three thongs, three bras but something is going to fly out eventually."
Jen, who has appeared nude in her films in the past, said it is a tough thing to do for work.
"It's not easy to get naked in front of other people. I commend all you strippers!"
Jen also said the movie is "very naughty and hysterically funny," and said one of her favorite scenes is where her son gets bitten by a spider.
"He wore a huge prosthetic penis," Jen said and the audience roared, making her question if she could even say the male body part on TV.
"He had been bitten by a tarantula," she explained "Well, one ball did."
She also repeated her claim that she is not getting married anytime soon, telling the women that her relationship with Justin Theroux is just fine.
"We're happy in love and feel like we're married and eventually we'll get married when the time is right."
Check out the video where Jen dishes on how hard it is to be a stripper for her role in We're the Millers, which hits theaters August 7.