Jennifer Aniston's Stuntwoman Does Butt Double Duty On 'We're The Millers'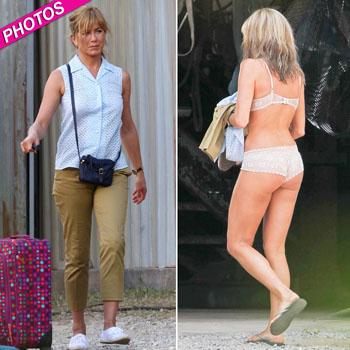 No one would ever say that Jen Aniston doesn't have one of the best butts in Hollywood but when it comes to doing dangerous stunts while also baring your butt, even the super-toned Aniston has a stand-in.
During shooting a dangerous scene involving explosions on the We're the Millers set on Saturday, Aniston's stuntwoman took over. She is seen running in her bra and panties, and carrying her clothes.
Article continues below advertisement
The clothes -- a blue blouse, khaki pants and white sneakers -- is the same costume Jen was seen in during a day of shooting late last month.
HOTOS: Jennifer Aniston Shows Off Dowdy New Look
Aniston, 43, is famous for workouts. Earlier this year she told InStyle, "I work out almost every day, at least five or six days a week. I do 40 minutes of cardio: spinning, running, the elliptical, or a combination of all three. Then I do Pilates one day a week, and I do yoga in addition to that, three days a week. I try to mix it up."