TODAY's Jenna Wolfe Comes Out, Expecting Baby With Partner Stephanie Gosk!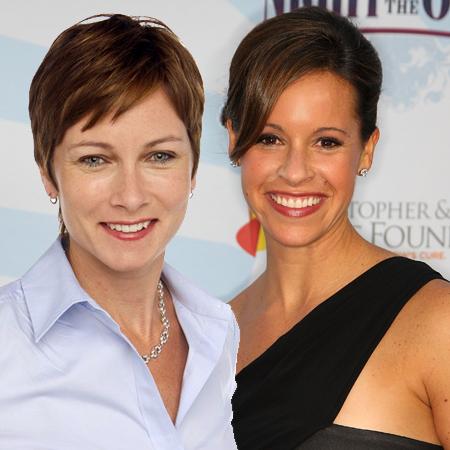 Following in the courageous footsteps of Anderson Cooper, Sam Champion, Don Lemon and Thomas Roberts, another high-profile TV news personality has come out: this time, it's Weekend TODAY anchor Jenna Wolfe, who also says she's expecting her first child – a girl – with her partner NBC News correspondent Stephanie Gosk.
"I have big news, this is big for me" Wolfe, 39, told Matt Lauer on Wednesday's edition of TODAY. "I'm actually pregnant -- I'm quite pregnant, actually! My girlfriend Stephanie and I, who works here at NBC, we're expecting a baby girl in the end of August.
Article continues below advertisement
VIDEO: Elton John: Why I Waited To Come Out
"There are terms I did not know about," Jenna said. "You have to buy cribs and where do you get a baby stroller? The bodega? And have you heard of breast pumps? This is all new to me, this is a journey I'm excited to take."
In PEOPLE's new issue, Wolfe calls her pregnancy "the most exciting thing that has ever happened" to she and her partner, noting, "I don't want to bring my daughter into a world where I'm not comfortable telling everyone who I am and who her mother is."
Article continues below advertisement
The beautiful broadcaster told the magazine that she and Gosk, 40, have been together for three years, and that they started to discuss having a family last year.
Watch the video on RadarOnline.com
Visit NBCNews.com for breaking news, world news, and news about the economy
"We were constantly on the road, juggling a thousand balls at once," Wolfe explained. "It's a miracle we got it all together."
The couple also plans to tie the knot. (Gay marriage is legal in New York, where the couple lives.) However, they do admit they're more excited for the arrival of their little one.
"In a way, we can't wait to start," says Wolfe. "Stephanie keeps saying, 'Hurry up! What's taking so long?' And I'm like, 'The baby's cooking!'"
Congrats to the happy couple!