Child Abuse Accusations! Jenelle's Baby Daddy Allegedly Beat Son, Ex's Mom Claims
Jenelle Evans' toddler son had so many "bruising and markings" that his grandmother wanted to take custody away from his Teen Mom 2 star mother, which she detailed in shocking court documents exclusively obtained by RadarOnline.com.
Doris Davidson, Nathan Griffith's mom, filed an emergency motion request for full custody of three-year-old Kaiser on September 1, 2017 and she listed multiple examples of abuse she said the little boy suffered at the hands of Evans' fiancé.
Article continues below advertisement
"There have been several occasions when the proposed Intervenor has seen bruising and markings on the minor child that are unusual and more than normal scrapes that a toddler may have than a two/three year old should have," Davidson wrote in the documents obtained by RadarOnline.com.
"The proposed Intervenor has raised two sons which are now adults, and is cognizant of the fact that young boys are rough and tough and stumble and fall and get scraped and bruised, however, the proposed Intervenor feels that the minor child's bruises have been in places that have been indicative of more than rowdy behavior."
Davidson submitted two photos of Kaiser which she claimed showed the bruises he received at the hands of David Eason.
"On April 28, 2017 there was bruising on the minor child's back. On March 31, 2017 there was a bruise on the minor child's chest of a fingerprint which appeared as though a finger had been pressed firmly into the minor child's chest as well as along the minor child's left arm appearing that he had been jerked by the arm."
Article continues below advertisement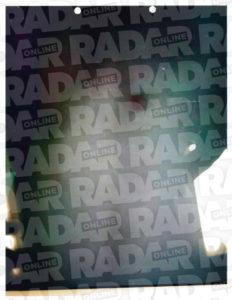 Davidson described in court docs an occasion when Kaiser told her Eason hit him.
"On April 28, 2017 the proposed intervenor picked the minor child up at day care in Wilmington so he could attend Defendant's fitness competition in Columbia. The first thing minor child said: "Nana, David punch me." David Eason is Plaintiff's boyfriend who currently resides with her. The minor child continued to repeat the same over and over, and then took his little fist and put it up to his face and repeated it again."
Griffith's mother slammed Evans, saying that she gave her three versions of how Kaiser got the bruises.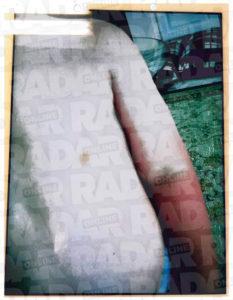 "The proposed Intervenor alerted Plaintiff and inquired what was going on. David first told the proposed Intervenor that the minor child was trying to get out of car seat and he reached back to stop the minor child and accidentally hit him. The remainder of the weekend, the minor child appeared tired and complained his eye hurt and his head hurt.
Article continues below advertisement
"Plaintiff has changed the story of how the injury occurred and told two other versions. Plaintiff stated that the minor child had leaned forward in his car and without looking back David put his arm back to get something and accidentally hit the minor child. On August 13, 2017 David told the proposed Intervenor that he and the minor child play fight and that the injury occurred during the who play punching each other."
Davidson also describes how Evans accused her and Griffith of abusing Kaiser — claims she vehemently denied.
"On Tuesday, August 1, 2017, Plaintiff texted the Intervenor making accusations that the minor child had marks on his butt and claiming Defendant had hit him. The proposed Intervenor explained that this was not possible because she was present at all times, and she took photographs of the minor child before and after he left, due to Plaintiff's previous accusations," the documents obtained by RadarOnline.com stated.
Article continues below advertisement
"On Wednesday, August 2, 2017, Plaintiff texted the proposed Intervenor at 6:03 AM accusing the Defendant that the minor child had been hit. Plaintiff further accuse Defendant and his girlfriend of taking the minor child without supervision to Florida. Plaintiff also said the minor child had anxiety from being at the proposed Intervenors home."
Davidson pleaded with the court to give her full custody of her grandson, noting: "Upon information and belief, David uses inappropriate and excessive discipline and spanks the minor child very hard, leaving marks."
The New Hanover County Clerk of Court told RadarOnline.com that the judge had not made a decision about the custody claim.
We pay for juicy info! Do you have a story for RadarOnline.com? Email us at tips@radaronline.com, or call us at 800-344-9598 any time, day or night.