Exclusive
Jay-Z Slams Kanye West As A 'Problem' During Rappers' Explosive Feud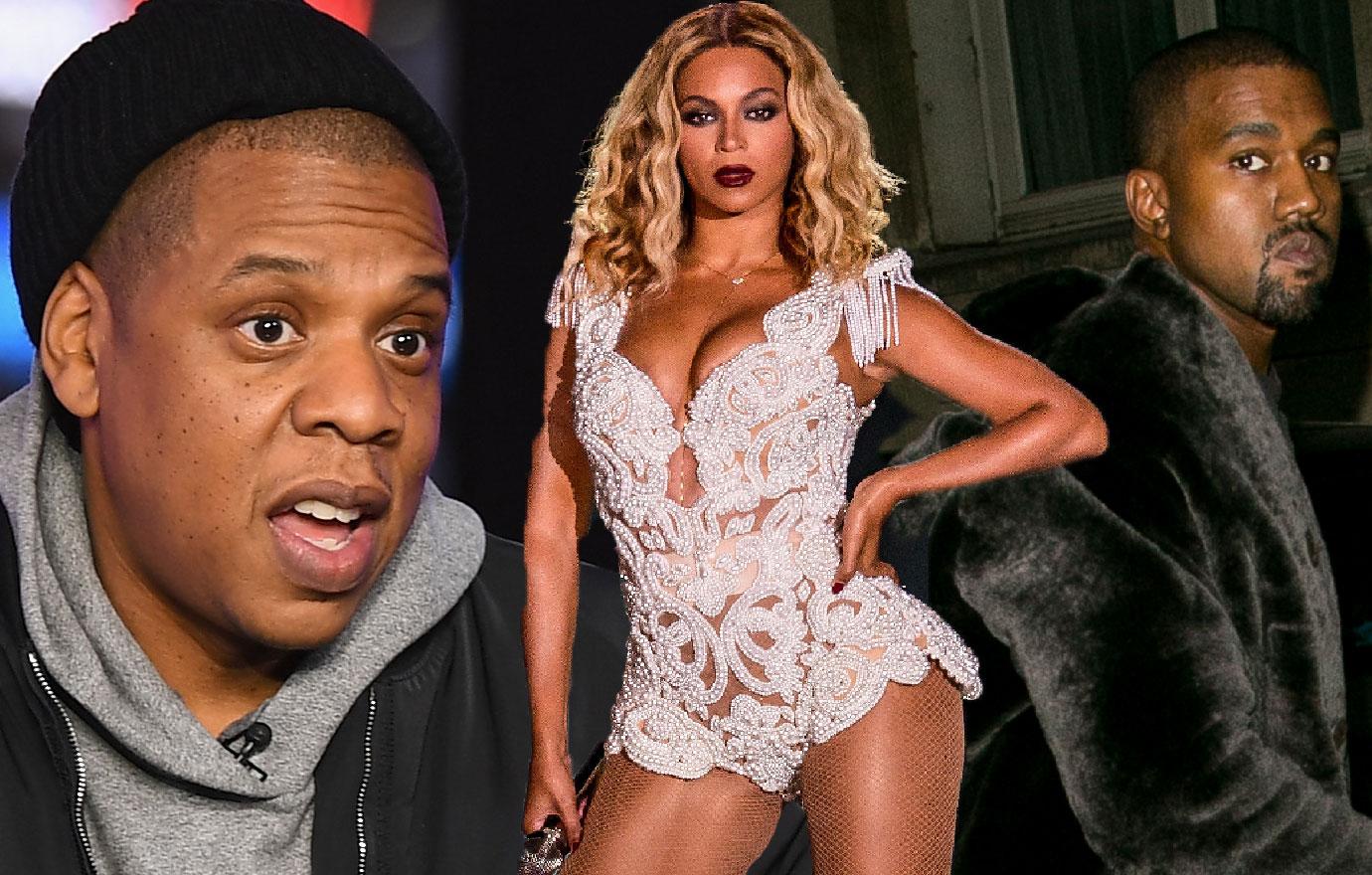 Jay-Z is blasting frenemy Kanye West after Kim Kardashian's husband made weird remarks about him and his wife Beyonce last year.
While discussing his provocative song "Kill Jay Z" with Rap Radar host Elliott Wilson and Brian "B. Dot" Miller, in which the rap star slammed West, Jay-Z said he "got hurt, because this guy was talking about you on a stage."
t was a reference to West's bizarre concert rant on November 16 at a concert in Sacramento last year that stoked a bitter feud between the two men and their famous wives.
Article continues below advertisement
Jay-Z commented, "…what really hurt me, you can't bring my kid or my wife into it. … We've gotten past bigger issues, but you brought my family into it, now it's a problem with me."
Jay-Z added, "You know it's a problem because me and him would have been talked about it, been resolved our issues. And he knows crossed the line. He knows. And I know he knows. 'Cause we've never let this much space go between one of our disagreements and we've had many. That's part of who we are."
The two rappers were friends until West, 40, went off the deep end at the concert last year. Then, he called out Jay-Z and wife Beyonce in regards to the 2009 incident when West rudely interrupted Taylor Swift's's Video Music Awards acceptance speech to say that Beyoncé deserved to win.
"I went down seven years on behalf of you," West said. "Beyoncé, I was hurt because I hear that you said you wouldn't perform unless you won Video of the Year over me and over 'Hotline Bling,'" West said, alluding to the "Formation" singer's win over him and Drake at the VMAs in August 2016.
Article continues below advertisement
West continued in front of fans back in November, "In my opinion — now don't go dissing Beyoncé, she's great. Taylor Swift is great. We are all great people. We are all equal. But sometimes we be playing the politics too much and forget who we are just to win."
In his Rap Radar interview, Jay-Z, 47, let people know he was outraged about West's tirade. However, he also shrugged about his single which appeared to hit back at West, "It's not even about a Kanye diss. It's not a diss, I'm talking to myself the whole time."
In the single, Jay-Z rapped, "I know people backstab you, I feel bad too/ But this 'f— everybody' attitude ain't natural/ But you ain't the same, this ain't KumbaYe/ But you got hurt because you did cool by 'Ye/ You gave him 20 million without blinkin'/ He gave you 20 minutes on stage, f— was he thinkin'?/ 'F— wrong with everybody?' is what you sayin'/ But if everybody's crazy, you're the one that's insane."
Article continues below advertisement
During his Rap Radar chat, Jay-Z clarified, "I'm not talking about Kanye when I say, 'You dropped out of school, you lost your principles,' I'm talking about me!"
However, West has raised eyebrows by also directly addressing his Watch the Throne collaborator in the past, saying: "JAY-Z — call me, bruh. You still ain't called me. Jay Z, I know you got killers. Please don't send them at my head."
As Radar has previously reported, West cutting his ties with Tidal, the music streaming company launched by Jay-Z back in 2015, is part of their explosive feud.