Jamie Foxx: 'Black People Are The Most Talented People In The World'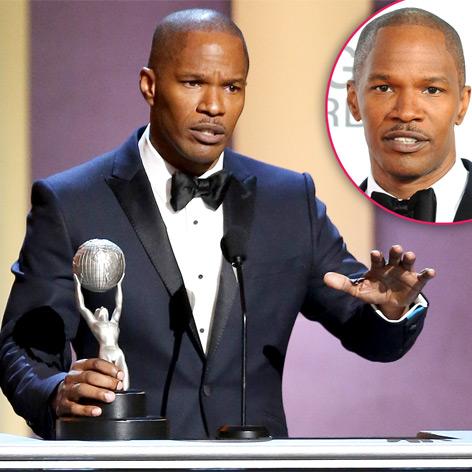 Jamie Foxx raised eyebrows after his speech at the 44th annual NAACP Image Awards, where the Oscar-winner, accepting Entertainer of the Year honors, boldly told the crowd, "Black people are the most talented people in the world!
"I … it's … I can't explain it," Foxx said at the February 1 ceremony. "You can't sit in this room and not watch Gladys Knight sing and go like, 'Golly, what in the world?'"
Article continues below advertisement
It's the latest racially-charged chatter from the Ray star, who told the December/January issue of VIBE that "every single thing in my life is built around race.
"As black folks we're always sensitive," Foxx said in the interview, which was a roundtable discussion with his Django Unchained co-stars Leonardo DiCaprio and Kerry Washington.
"As a black person it's always racial. I come into this place to do a photo shoot and they got Ritz crackers and cheese, I'll be like, 'Ain't this a b*tch. Y'all didn't know black people was coming?" Foxx said. "What's with all this white sh*t?'
"By the same token, if there is fried chicken and watermelon, I'll say 'Ain't this a b*tch' … so, no matter what we do as black people it's always gonna be that."
Appearing on Saturday Night Live in December to promote the Quentin Tarantino film, Jamie joked how he plays a slave who slaughters "all the white people in the movie", then adding, "How great is that?"
youtube