Jacqueline Laurita's Husband Fumes Over Teresa Giudice's Karma Comment: 'It Sounds Like She's Referring To Nick'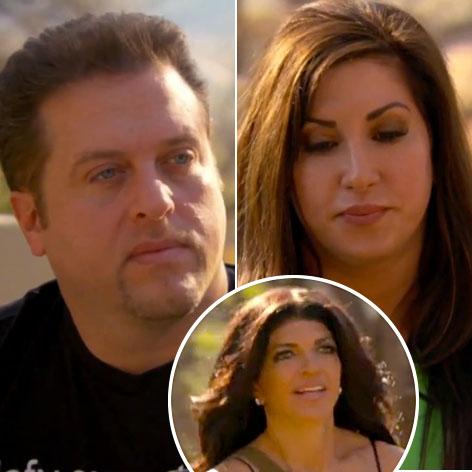 Has Teresa Giudice put her foot in her mouth again?
During last week's episode of The Real Housewives of New Jersey, she made what appeared to be an insulting comment to Jacqueline Laurita about karma after Jacqueline admitted to missing her.
Teresa said, "My thing is, I don't want to ever do anything to hurt anyone because karma might not come back to me but to my daughters."
As any RHONJ fan knows, Jacqueline has an autistic son named Nicholas — and in the upcoming episode, when Jacqueline tells her husband Chris about Teresa's thoughtless jab, it sends Chris over the edge.
Article continues below advertisement
GALLERY: The Giudice's 30 Most Shocking Quotes About Fraud & Finances
"It's weird because she's being so nice, it's making me kind of miss the old Teresa," Jacqueline starts telling Chris as they sit down for breakfast in a preview video for the new episode.
Chris asks, "Did she say she was sorry for anything or own up to anything?"
"No," she responds. "But she said, 'I live my life like I don't do things to people because karma comes back to you and if it doesn't come back to you, it comes back to your kids.'"
Chris interprets that as an attack at their son.
"What does that mean?" he says. "Because it sounds like she's referring to Nick, you know what I mean? And that's pretty sh***y!"
He adds to the cameras, "A lot of things that Terea says are hurtful, and I'm not sure if she's saying them intentionally, or just not thinking about it, just words come out of her mouth like puking or vomiting."
"I don't have any time for bullshit," Chris concludes. "You know what I mean?"