Teen Explains Why He Came Out In Front Of ENTIRE Class: I Did It For Gay Kids Everywhere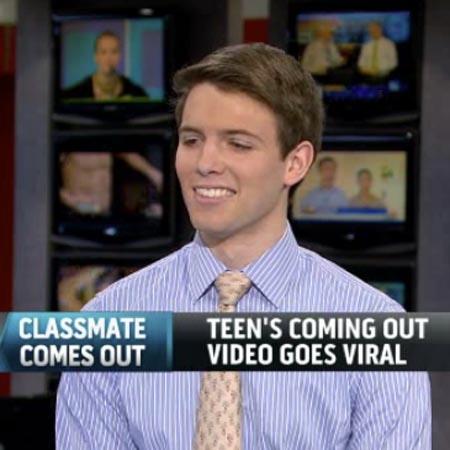 Jacob Rudolph - the high school senior in Parsippany, New Jersey who bravely came out to his ENTIRE class during an awards ceremony at his school last Friday – says he did it not really for himself, but for young people everywhere who might be struggling with their sexuality.
Rudolph, a talented musician and actor, explained to MSNBC's Thomas Roberts on Friday why he chose to reveal his secret in front of his 300 classmates, teachers and some parents attending the ceremony.
Article continues below advertisement
"I decided to do it in that way initially because I made the initial connection between the irony of me acting every single day of my life and me being a stage actor, but as I started thinking about it more and more, and I talked with a very close gay family friend he explained to me that by performing the speech in front of all my peers and then having it videotaped especially would not only be coming out for myself, but also coming out for kids who maybe don't have the courage or don't know how to do it in a right way," Jacob told Roberts.
As RadarOnline.com previously reported, Jacob, while accepting an award for Best Actor at his school on January 18, surprised the audience with his 50-second speech in which he revealed that he is gay.
"Sure I've been in a few plays and musicals, but more importantly, I've been acting every single day of my life," Jacob began in his speech.
"You see, I've been acting as someone I'm not. Most of you see me every day. You see me acting the part of 'straight' Jacob, when I am in fact LGBT. Unlike millions of other LGBT teens who have had to act every day to avoid verbal harassment and physical violence, I'm not going to do it anymore. It's time to end the hate in our society and accept the people for who they are regardless of their sex, race, orientation, or whatever else may be holding back love and friendship. So take me, leave me or move me out of the way. Because I am what I am, and that's how I'm going to act from now on," he added.
Article continues below advertisement
At the end of his speech, the crowd rewarded him with thunderous applause and a standing ovation.
On Friday, Roberts asked Jacob what kind of reaction he's received since then.
"Well, my high school has been nothing but supportive, and I can't thank them enough for that, but I've received countless Facebook messages from people I've never met before in my life, internationally even, congratulating me for what I did and saying how much they respect me and how brave it was for me to do it, but I really have to reiterate that it really wasn't for me at that point, it was really for everybody else in the LGBT community," Jacob said.
He also told Roberts, who himself is openly gay and recently married his partner, that during his speech, he purposely identified himself as being "LGBT" and not as gay, and he believes terms like gay, bi-sexual, and lesbian are terms of the past, because people can change in the future.
Jacob had told his family he was gay one year ago. In a separate interview, his mother said she and her husband were stunned by the classmates' reaction.
Article continues below advertisement
"It was an immediate standing ovation," she said. "My husband and I sat there stunned. It was instantaneous."
His father Jonathan, who uploaded the original video to Facebook, describes his son's decision to come out as "taking more guts than anything I've ever attempted in my life."
The video has quickly gone viral and has received 400,000 views in less than a week.
Now that he's about to graduate high school, Jacobs told Roberts that he hopes to attend the Berkley College of Music for their music business program.